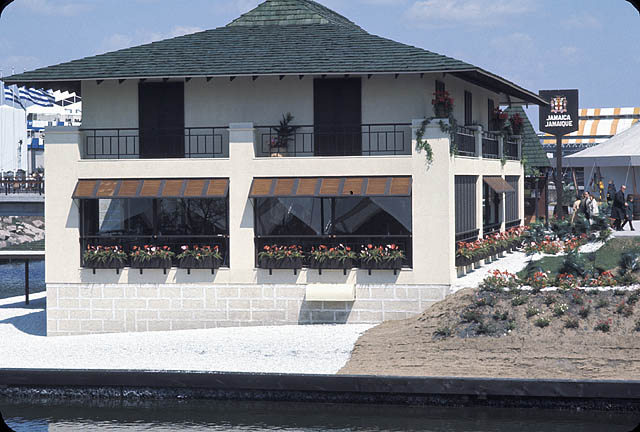 Photo credit: © National Archives of Canada
Pavilion of Jamaica
Jamaica's pavilion on Ile Notre-Dame takes the form of a handsome 19th century Jamaica country shop, representing one of the pleasant and characteristic facets of the island's past.

The typical old Jamaica country shop had a quite particular character. From the island's Spanish colonial past came the use of wrought iron, and from England's Surrey came the inspiration to build with beams massive but delicately aligned. Builders used to building ships borrowed from nautical construction. This Jamaica country shop is as authentic as time, patience and material allow.

It's a sight to warm the heart of any weary passerby, with a great wooden bar under black-hewed beams and cafe tables in quiet corners. Murals and artifacts illustrate island history - the days of Henry Morgan and Admiral Nelson.

In the courtyard are shrubs and flowers, and on the perimeter are thatched buildings reminiscent of sugar plantations. These feature world-framed Jamaican products including rum, cigars and Blue Mountain coffee. The message of this cosy corner of Man and his World is that Jamaicans today are just as light-hearted and hospitable as they were centuries ago.
1/6