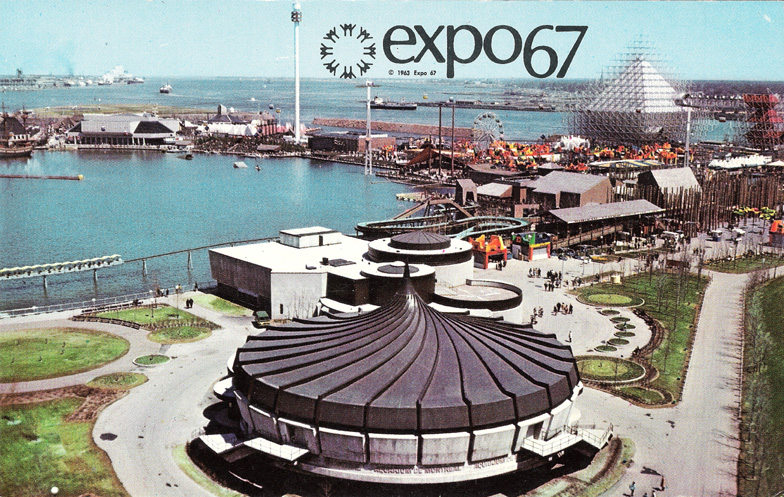 Photo credit: © Benjamin News Company, Montreal
Alcan Aquarium and Dolphin Pool Pavilion
A fascinating variety of marine life is revealed in the Alcan Pavilion and the Alcan Dolphin Pool which together form the Montreal Aquarium. The buildings, located only a few steps from La Ronde station of the Expo-Express, are harmoniously set in the Amusement Area of the Ile Sainte-H

é

l

è

n on the banks of Dolphin Lake.

These structures are two of the few buildings on the site which will remain open after Expo 67 closes. The Aluminum Company of Canada., principal subsidiary of Alcan Aluminum Ltd., built the project as a joint and permanent venture with the City of Montreal.

Immediately upon entering the Alcan Pavilion the visitor faces a colony of penguins in Antarctic conditions. The next spectacle is one of the most outstanding collections of salt water and fresh water life in North America. There are minute fish weighing less than one ounce and others ranging up to enormous 350 pound groupers. The south-sea coral reef exhibit is bathed in a fairyland of color.

The Alcan Dolphin Pool features a troupe of trained dolphins performing acrobatic feats above and below the water.

Click here to see a model to scale of the Alcan Aquarium.

Click here to see a map of the Alcan Aquarium and Dolphin pool floor plan.

Click here to see a photo of the construction of the Alcan Aquarium and Dolphin Pool.
1/3