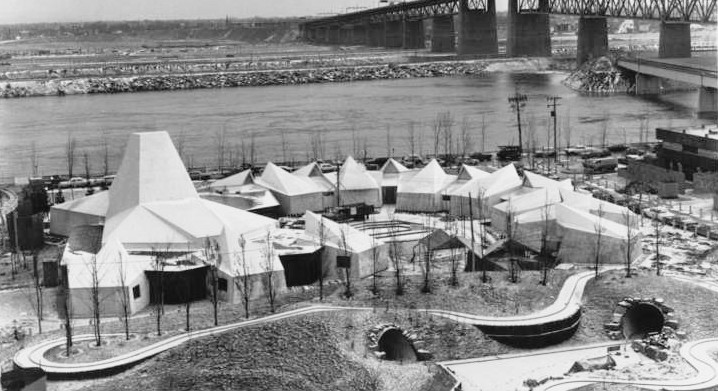 An early promotional press photograph of the Youth Pavilion.


Thirty-three Canadian youth organizations have had a share in the preliminary work for the Youth Pavilion, which adjoins the station of Expo-Express.

Now the pavilion is there, and it's yours; the 16-30 set is waiting for you.

The Theme Area: one billion young people tell you who they are, what moves them and what they do. It is up to you to judge the future they are shaping now.

The Activity Area:
a theatre
a café (with a snack-bar); radio and T.V. shows every day; at night it becomes a discotheque.
an open-air amphitheatre
What Goes On:
theatre (modern and total theater, happenings)
cinema (amateur festival - 8mm)
sports
music (jazz, classical, pop)
variety shows
panels -- lectures
fine arts (creation)
The performers and the artists are young amateurs, semi-professionals or professionals from around the world. It is a continuous experiment.
Atmosphere: it's way out, because you're in! And when you play the game, the fellow next to you is not a stranger anymore, because he has come a long way to do the same, and to meet you.
Every day, from 10 a.m. to 2 a.m. (The program is sponsored by Steinberg's Ltd)
P.S. The 6th of August is Youth Day at Expo 67.
Click here to see a map of the Youth Pavilion.
Click here to see a model to scale of the Youth Pavilion.