Expo - 'Wow,' Say Ottawa School Children
By The Ottawa Journal Staff
Even with daylight saving time it seemed like the crack of dawn as busload after busload of Ottawa school children left the city for Expo 67 Monday.
In the first of a wave of elementary school visits to the Expo islands, 480 separate school children gathered at several city schools to be marshalled into groups of nine to an adult.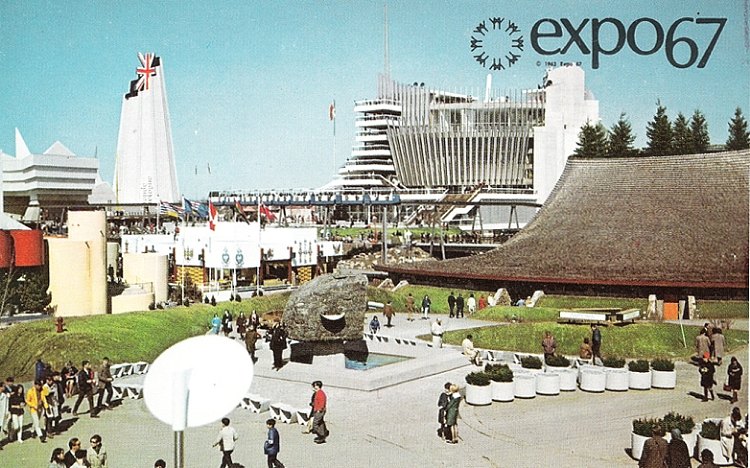 Photo credit: © Benjamin News Company, Montreal
"We're off to Expo," shouted one Gaston Vincent School pupil as he dashed down a school corridor to his group.
And at 6:30 a.m. the Grade 5 and 6 students were, a typical school busful -- laughing, talking and singing about cuckoos, joie de vivre and "Canada."
At the first sight of the Expo site's domes, peaks and gleaming buildings, "oohs" and "ahhs" burst from every child.
A scramble from the bus, a counting of heads...and bag lunches, and they were off.
But due to a half-hour delay in the Gaston Vincent school's arrival, the pupils and monitors were soon swallowed in a morass of people crowding towards the turnstiles and the Expo Express as the gates opened to the public.
A short wait and some crowding, however, and the children were off again, oohing and ahhing some more as they caught a glimpse of La Ronde, the magical world of color and fantasy.
LONG LINES
On the site itself, students and monitors alike got a shock seeing the long lines already waiting in front of most pavilions. But the wait seemed short compared with the result.
At the first stop, the Bell Telephone Pavilion, the children stood in open-mouthed wonder at being in the centre of a mammoth circular movie on Canada. They watched excitedly as red-coated Mounties seemed to ride over them in a precision drill, gasped as they "followed" a careening police car on a chase through city streets, and gasped again at the serene early-morning beauty of Canada's northland.
Then it was on to lunch at Īle Notre-Dame Park and more of the wonder of man and his world via the Canadian Pacific Cominco and French pavilions.
A tired but still lively group headed back to the buses as the late afternoon sun made the gigantic dome of the United States pavilion glitter.
In spite of tired feet and at times a bewildered recollection of what they had seen, the students declared the trip a success.
So did Separate School centennial co-ordinator Andre Richard. He'd learned from the day's trial run, he said. A monitor and his students acting as an individual group can see the exhibits at their own rate and get along best in the waiting lines and on the Express.
Today about 750 Ottawa Separate school children are visiting Expo as part of an expected 16,000 school visitors.
- End of article. Copyright by The Ottawa Journal, May 2, 1967. All rights reserved.