EXPO PAVILIONS
USSR, Canada, Biggest Attractions
MONTRÉAL (CP) -- An Expo 67 computer spun out a stream of facts and figures Sunday as it tallied the count of everything from hamburgers eaten to ticket stubs torn over the six-month Expo period.
The lines at the Czechoslovakian and British pavilions might have seemed the longest but it was the Soviet Union's exhibit that attracted the most visitors -- about 13,000,000.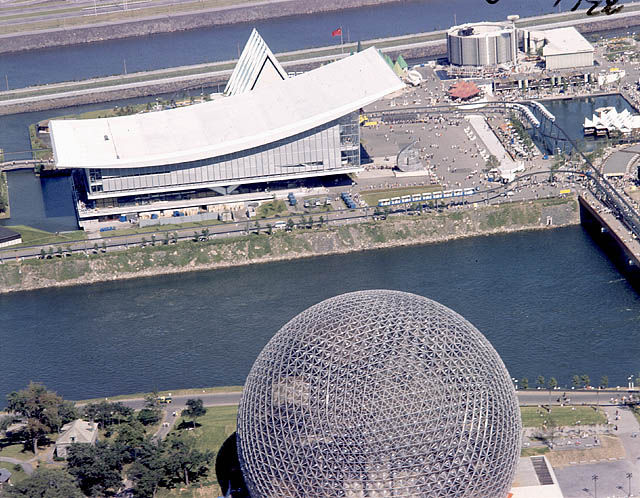 Photo credit: © National Archives of Canada
"Not only is the Soviet pavilion a lovely design, it is very clever as well. Did you know that the walls of that pavilion did not support the roof? It was the other way around: the wall hung from the roof which was supported by the V-shaped structures on either side." - Bruno Paul Stenson, MA, May 26, 2004.
Canada had 11,000,000 visitors, the United States 9,000,000, France 8,500,000. Czechoslovakia 8,000,000 and Great Britain 5,000,000.
Expo Express, the fair's free transit system, travelled 374,600 train miles and Expo marina held more than 7,000 boats.
There were 25,463 youngsters who turned up at the department for misplaced youngsters and the department happily reported that 25,463 were found.
The chore of cleaning up the 1,000-acre site went to 15 men who removed 200 tons a day of rubbish. Each fairgoer left an average of 1.28 ounces of rubbish behind.
Canadians visited the fair more than citizens of any other nation. Fifty-three per cent of all visitors were Canadians while the U.S. supplied 45 per cent of the population.
A little less than $6 a person each visit was spent at the fair.
Season passports were used 22 times each on the average and about 450,000 Expo theatre ticket stubs, valid for one night's visiting on site after each performance were used. Seven-day passports were used 5.5 times each.
A total of 5,031,578 hamburgers were gobbled up by fair-goers and more than 33,500,000 ice cream cones were consumed during the fair.
- End of article. Copyright by the Canadian Press, October 30, 1967. All rights reserved.