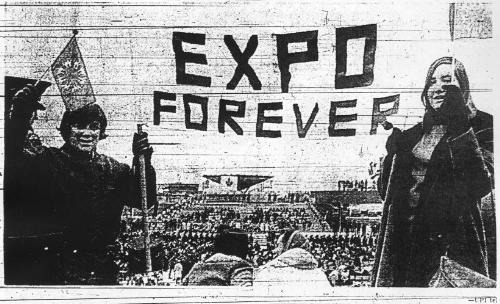 Kiloran German of Ottawa, left, and Julia Johnson of Montreal at closing ceremony.
Photo credit © United Press International
'Oh my God, it's over'
Strange quiet everywhere 'like someone had died'
by Karin Moser, Canadian Press staff writer
MONTRÉAL -- "Oh my God, it's over," whispered one woman as the sound of the 67-gun salute boomed out Sunday at Expo, signalling the close-down of the 1967 world's fair.
Within minutes, all visitors were asked to leave pavilions, boutiques, restaurants and the Expo Express as it pulled into Place d'Accueil, the main entrance.
"I feel as though someone has died," said Lillian Azar, a Montréaler.
Several youngsters passed her carrying blue banners bearing the Expo symbol and the words Au Revoir -- till we meet again.
Other fair-goers carried whistles and streamers handed out to them as they left the pavilions. But no one whistled and no one smiled.
Everyone just walked away quietly from the 1,000-acre site.
"C'est triste," -- it's so sad -- said Margaret Richer of suburban Lachine.
CROWD GATHERS
A small crowd gathered near the pavilion of Ethiopia where two young high school girls from Trois-Rivieres, Qué., were holding signs saying Merci Jean Drapeau.
"Everyone who passes us is putting his signature on the placard," explained Luce Desaulniers, 14. With her 15-year-old friend, Joan Poliquin, she was going to turn the signs over to Montréal's mayor later.
One man passed the small group and wiped his eyes with a handkerchief.
There was a peculiar silence everywhere. No one felt like talking.
Earlier in the day during official closing-day ceremonies, hostesses from each pavilion gathered their national flags as they were lowered in Place des Nations.
Following the ceremonies the crowds milled around, many of them making their way to the parked limousines where official dignitaries soon appeared.
About 4 p.m. thousands of men, women and children lined the banks of the St. Lawrence, jammed into Place des Nations and crowded onto the Place d'Accueil platforms to watch an hour-long fireworks display.
When the fireworks stopped, only the twinkling city lights could be seen.
The 1967 world's fair lay in darkness.
- End of article. Copyright by the Canadian Press, October 30, 1967. All rights reserved.