MONTRÉAL (CP) -- Expo 67 geared itself today for what may be a record weekend attendance as the six-month fair faced its closing hour.
School children and their teachers from throughout the province have the day off today for a final visit to Expo and some observers predicted attendance might pass the record of 569,500 visits set Sunday, April 30, two days after the fair opened.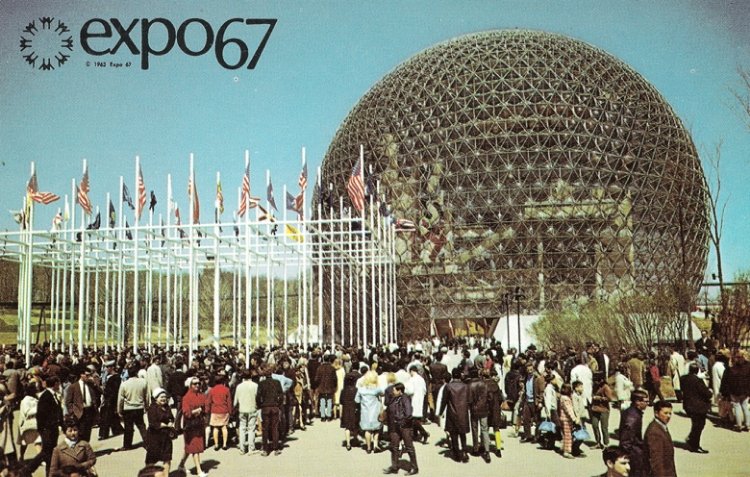 Photo credit: © Benjamin News Company, Montreal
Attendance Thursday approached the 300,000 mark, bringing the total since the opening to more than 49,200,000.
The unofficial target of about 50,000,000 was expected to be reached before the official closing gates at 2 p.m. Sunday, Phillippe de Gaspe Beaubien, the fair's director of operations, said Thursday.
Millions more will continue to visit at least part of the present 1,000-acre site after the fair closes officially if Montréal Mayor Jean Drapeau and Québec Premier Daniel Johnson have their way.
Mr. Johnson announced Thursday the provincial government will join the federal government in providing the experimental two-year financial base to keep the La Ronde amusement park area in operation after the fair closes.
Mr. Johnson said the province intends to give the $6,000,000 Quebec pavilion to the City of Montréal for use in any project for a permanent exhibition after Expo.
Mr. Drapeau reported earlier that nearly 40 pavilions have been offered to the city and he indicated Thursday that new offers have been made although he gave no figures.
Asked whether a continuing fair would be an anti-climax after the resounding success of Expo, Mr. Drapeau said the project would not have been started if the city had lacked co-operation.
"I am not satisfied to juggle with dreams. I know my limitations. But I know the possibilities of my fellow Canadians are unlimited."
- End of article. Copyright by the Canadian Press, October 27, 1967. All rights reserved.