RIDEAU HALL RECEPTION
Ex-Rower Michener Greets '67 Paddlers
By The Ottawa Journal Staff
A veteran of college rowing days met Canada's centennial paddlers at Rideau Hall today.
The Governor-General, a stroke with his college rowing team, set the pace this morning at a reception for an entourage of about 100 Voyageurs and their organizers.
Canada's official cross country centennial Voyageurs splashed in at Britannia Tuesday and arrived in voyageur weather -- a steady rain -- at Government House shortly after 9 a.m. today.
The Governor General said "congratulations" was not a strong enough term to use in praise of the paddlers who had come more than 3,000 miles from Rocky Mountain House.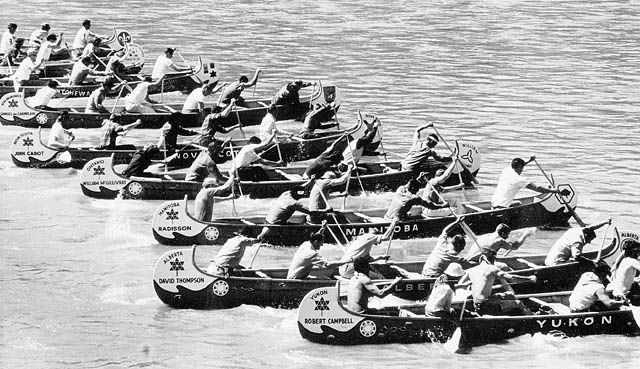 Photo credit: © National Archives of Canada
He told them he was born near Rocky Mountain House and therefore knew something of the terrain in which they began the canoe trip.
GOOD HEALTH
He guessed that the voyageurs must, after 100 days of paddling, feel like Napoleon after his escape but noted that everyone seemed to be in good health.
"I've never seen a sturdier group of Canadians," he remarked and called it an "obviously healthy exercise."
As he and Mrs. Michener greeted the Voyageurs individually he asked one western paddler if he had ever been to Ottawa before. When the reply was negative, the Governor-General told him it was "a hard way to get here."
He signed an animal hide scroll by the Alberta team in a spot at the very top reserved for him. Beneath it was a line reserved for the Prime Minister who was expected to sign it today as well.
The New Brunswick team presented the Micheners with a tartan blanket on behalf of the Premier Robichaud.
After having coffee the gaily but roughly-clad Voyageurs left for Parliament Hill.
- End of article. Copyright by The Ottawa Journal, August 30, 1967. All rights reserved.