ARRIVAL KICKS OFF NIGHT OF REVELRY
Cheers of 7,000 Greet Voyageurs at Britannia
By John Sifton of The Ottawa Journal
A vivid flashback to the beginnings of Canada glided across Britannia Bay Tuesday at 5:20 p.m. to the cheers of more than 7,000 Ottawa residents.
With paddles churning and provincial crests flowing in the breeze, the voyageur canoeists arrived to demonstrate their skill and to face a barrage of greetings from federal, provincial and municipal officials, a sumptuous roast beef dinner, a folk show from Ottawa Valley's finest entertainers, street dancing and a glimmering display of fireworks.
LONG JOURNEY
The paddlers are on the last leg of their 3,283-mile journey from Rocky Mountain House, Alberta, to Expo '67. They will finish their 104-day trip Sept. 4.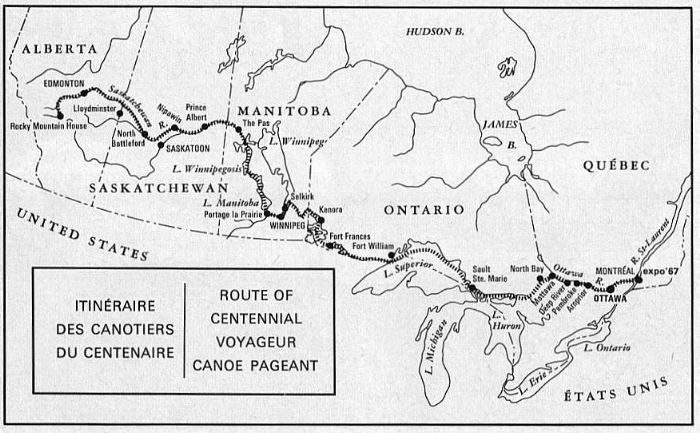 Photo of map taken from the Expo 67 Official Guide book.
Minutes after they finished their long trek from Arnprior where they spent Monday night, the canoeists gave a performance of precision-paddling, weaving figure-eights and doing the aquatic equivalent of a march-past.
They began a 2½ mile sprint around Britannia Bay. Water splashed high into the air as the 10 canoes representing the Yukon, the Northwest Territories and eight provinces plunged into competition with a LeMans start.
The spectators shouted their allegiances and delight and some 300 waded knee-deep into the muddy waters.
And a fleet of small boats followed the bronzed, young canoeists with their paddles cutting the water at a rate exceeding 80 strokes a minute.
The Manitoba team won in nine minutes and 31 seconds, beating the second-place Saskatchewan crew by 10 seconds to win $100 in cash. But every team received some slice of the $500 prize money.
Soaked and exhausted, the shy young men of river and lake still found time to sign autographs for the flock of eager young girls and elderly matrons who descended upon them as soon as the race was over.
GIANT FEAST
Then they dashed off for a quick shower and a seemingly unending dinner of roast beef punctuated by official greetings and the gleeful song and dance of Ottawa Valley entertainers.
Controller Ken Fogarty delivered a welcome on behalf of the City of Ottawa. And Agriculture Minister Green, representing Prime Minister Pearson, praised the voyageurs and their historical forebears for their warm fellowship and their concern with skill, strength and courage rather than the racial origins of their comrades.
"After seeing so many of those flabby fellows around Parliament Hill, its good to see there are still some rugged Canadians around," said Mr. Green.
Ontario Transport Minister Haskett greeted the husky paddlers on behalf of Premier Robarts.
And centennial commissioner John Fisher saluted them as "harbingers of the centennial" because they "brought the message of goodwill to the little towns of Canada."
After the dinner, the canoeists and a throng of 5,000 went out to watch a fireworks display on the old pier at Britannia.
The crowd remained after display for a street dance at the Britannia bus circle to the music of the George White Orchestra and entertainment in the park by Ottawa Valley country and western favorites.
TAKING IT EASY
At the voyageurs' campsite, three sun-burned young Albertans sat around a campfire and with guitar and banjo gave a quiet rendition of "Mountain Dew."
Today the voyageurs will continue down the Ottawa River to Hull where they will put on another performance.
They will also be received by the Governor-General, have the privilege of a short visit with Prime Minister Pearson and tour the Parliament Buildings.
The Manitoba crew leads the race in elapsed time.
Col. William Matthews of Gabriola Island , B.C., is chief voyageur of the pageant and, at 52, the oldest paddler. The youngest is 17-year-old Geoff Perouniak of Atikokan, Ontario.
Col. Matthews said the journey has been "a grueling ordeal all along."
Pride in their province or territory and pride in Canada is what has kept the men at it, he said. "Money couldn't have dragged them through some of those places."
Each of the 100 paddlers -- only six paddle at a time -- will receive $1,000 for their efforts, while members of the first, second and third place crews will receive an additional $1,500, $1,000 and $500 each.
Greg Cowan, a 20-year-old engineering student from Chatham, Ontario, said it was satisfying to know "you're one of the 100 who crossed Canada."
Cowan added that "in 90-some days of paddling, I've met 50-some girls -- that's hospitality to me."
The standings:
Manitoba 507:21.51
British Columbia 509:41.55
Alberta 511:33.45
Ontario 514:13.43
New Brunswick 516:25.11
Saskatchewan 518:52
Québec 520:17.38
Northwest Territories 524:09.16
Yukon 534:52.31
Nova Scotia 542:16.2
And here is the official cross-country canoe timetable:
Edmonton - May 27
Lloydminster - June 1
North Battleford - June 3
Saskatoon - June 4
Prince Albert - June 7
Nipawin - June 10
The Pas - June 13
Portage La Prairie - June 26
Winnipeg - July 1
Selkirk - July 2
Kenora - July 10
Fort Frances - July 14
Fort William - July 24
Sault Ste. Marie - August 11
North Bay - August 22
Deep River - August 25
Pembroke - August 26
Campbell's Bay, P.Q. - August 27
Arnprior - August 28
Ottawa - August 29
Montreal Expo - September 4
- End of article. Copyright by The Ottawa Journal, August 30, 1967. All rights reserved. Note: the cross-country canoe dates were added into this web page from the Expo 67 Official Guide book.