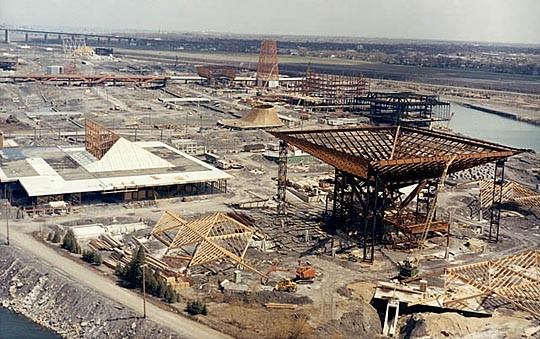 Photo: Copyright © National Archives of Canada
Pavilion construction taking place on Īle Notre Dame
In a conference: collapse
If only he'd stop and listen, just for once! But The Colonel won't stop for anything. Sometimes you wonder if he ever has lunch without conducting a meeting at the same time. Has he ever gone out to dinner and lingered over his coffee? Does he even allow himself time to go to the bathroom?
When he is first appointed to the job, The Colonel is a bachelor, and so he takes a room in the Queen Elizabeth Hotel, right across the street from Place Ville Marie. He comes down out of his room each morning about eight, walks a few steps through the pedestrian tunnel beneath Dorchester Street, and rides the elevator to his office. He gets his meals sent in and works from early morning until late evening -- to midnight, sometimes -- without once setting foot outside. And in those days, he's working a seven-day week.
Of course all that drive, drive, drive has to catch up with him. The strain shows worst of all when he arrives at work on the morning of November 5, 1965. The Colonel's secretary, Yolande Beaumier, definitely not a member of the nail-filing, paperback-reading, miniskirt set, seldom fails to say exactly what she thinks. "You look terrible," she tells him. "Didn't you sleep last night?" Two hours later, in the middle of a conference, The Colonel collapses. Diagnosis: exhaustion.
Installed in a hospital bed and ordered to rest, The Colonel soon has a map and pointer sent in, and almost before they realize what's happening, the doctors and nurses are getting regular pep talks on how Expo is shaping up. Later a colleague chuckles, "The Colonel did a bigger selling job for Expo in the hospital than our salesman have done in the field."