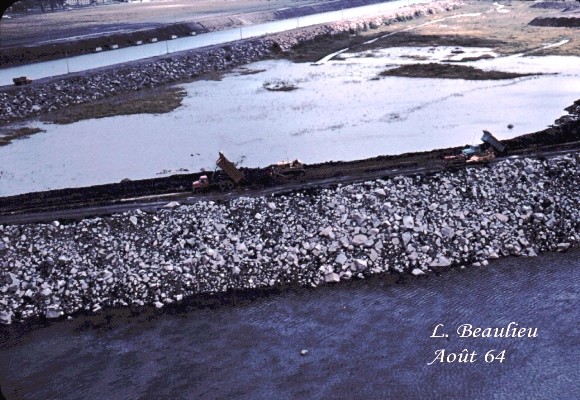 Photo: Copyright © by L. Beaulieu
Dump trucks and bulldozers construct Île Notre Dame
Months later, with headquarters moved from Place Ville Marie to the Expo Administration Building, just across a stretch of river from the man-made islands, The Colonel seems at first glance to have fitted all too comfortably into a Pentagon-style operation.
And haven't the empire-builders done their work well here! By the time it's over, Expo will have employed something like 10,000 to 12,000 people, and most of the white-collar crowd work (or, in some cases, put in their time) in this one huge building with its three stories of three enormous wings each. That means there are nine vast floors, their outside walls lined with almost-identical rows of offices and their inner cores filled with row upon row of precisely identical desks, occupied mostly by leggy young French-Canadian girls with miniskirts.
But what do all these people do all day in among those 2,000 desks and 1,500 filing cabinets? Some of the girls, as you can plainly see, sit reading paperback books and filing their nails. (In one section the girls return after a holiday weekend to find a simple greeting chalked on the office blackboard: WELCOME BACK TO MORE SITTING AROUND.) Mind you, a good many of the girls are working quite steadily and a few are working very hard indeed. (By a recent count, Expo had 275 stenographers and 159 clerks helping 54 division heads cope with three million sheets of paper per month. By the end of this March, Expo had shipped 17,867,174 informational pieces all over the world in seven languages, plus Braille.)
What do you do with money?
You're bound to find drones, of course, in a hive the size of this one, but Expo is an especially wasteful operation because it's a once-in-a-life-time thing, and many people are assigned jobs nobody has ever tackled before. Even trivial problems can be tricky to solve when they're unprecedented. What, for instance, would you plan to do with the daily output of manure from the horses of the King's Troop of the Royal Horse Artillery from Britain and La Gendarmerie Française from France? Pay somebody to haul it away? Why, that's like paying somebody to haul away money! Okay, then -- sell it! But wait a minute! That's foreign manure. Do you really want to get into the manure-importing business -- clearing everything through Customs, satisfying the health authorities...? But there's got to be a solution! And there is: you find a mushroom farmer who'll worry about the health-department tests and haul the stuff away without money changing hands either way.
That one sounds sensible but some solutions are downright silly, especially "solutions" to non-problems. The security people, gravely aware of "what these showbusiness people are like," suggest compulsory Wassermann tests for all 25,000 visiting performers and for all Expo employees likely to come in contact with them. Fortunately for Canada's reputation abroad, wiser heads decide to run the risk without Wassermanns. But the insult rankles with Expo's World Festival office and so they get back at "those dumb cops over in Security" by telling what happened when one Security man first walked into the newly completed Expo Theatre. He stood behind the footlights gawking at the dangerous - looking drop into the orchestra pit and remarked quite seriously, "Of course you'll be putting a fence across here..."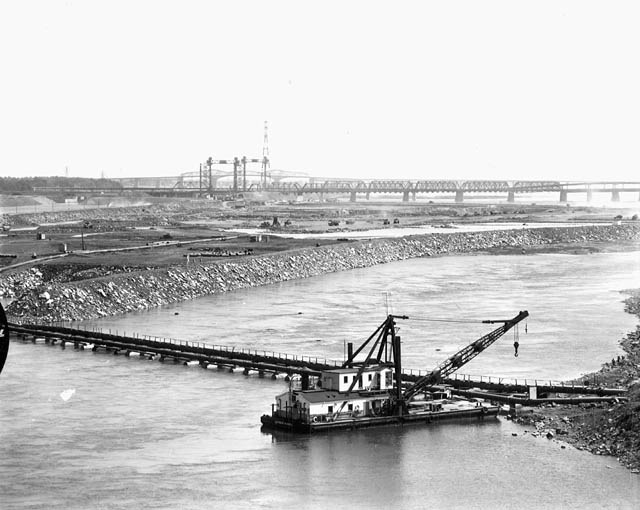 Photo: Copyright © by Maurice Macot, City of Montréal Archives
Expo 67 grounds under development, June 8, 1964
Since individuals can't produce a full quota of silly comments and inane decisions, committees are formed to make up the deficiency. One committee rejects a design for the World Festival theatre ticket on the grounds that it looks too much like a theatre ticket. For reasons nobody can quite explain, the paymaster's group gets shunted from one location to another with such frequency that old hands lose count of how often they've packed and unpacked, and it's a novelty for anyone in that department to have one telephone number long enough for anyone outside the department to learn what it is.
And you have to be there to believe what absurd pieces of paper are changing hands. One section head, a woman, won't ride the elevators. "I'm not that afraid of elevators," she explains, "but these get stuck sometimes, and I got stuck inside one I'd have to spend the next three days filling out forms!" After a time, even the wildest lunacies begin to seem normal. One day, along comes a memorandum entitled, WHAT TO DO IF YOU DISCOVER A FELLOW WORKER HAS DIED ON THE JOB. It contains a dozen procedural steps, each set down in exacting detail. A dozen or more people read it, take note and pass it along, apparently without realizing it's all a gag.
2/5