This webpage is dedicated to Colonel Edward Churchill, Expo's Director of Installations, who wisely implemented the Critical Path Method (CPM). Without using CPM, Expo 67 would never have been built in time.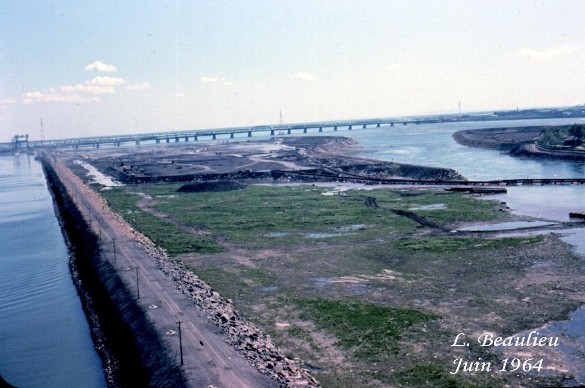 Photo: Copyright © by L. Beaulieu
Īle Notre Dame under construction in 1964
REMEMBER ALL THOSE PEOPLE WHO SAID EXPO WOULD NEVER BE READY IN TIME? NOW MEET THE MAN WHO MADE LIARS OUT OF THEM
By Hal Tennant for Maclean's magazine
IT'S JULY 31, 1965, and one of the islands where Expo will stand is just taking shape. The trucking contractors are doing their damnedest to get that fill hauled down to the riverfront and dumped into the cofferdam. But a little mob of wildcat strikers are doing their damnedest to stop them. As one convoy of trucks tries to get through, the strikers pelt them with sticks of dynamite, which explode like giant firecrackers. When another convoy tries to run the gauntlet, a speeding car zooms past, a .38-caliber automatic points its ugly little snout out of one window toward the trucks and - bang! bang!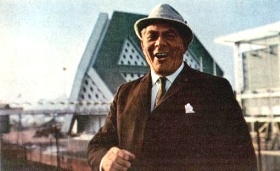 Colonel Edward Churchill, Expo's Director of Installations, inspects the $800-million world's fair he built in less than four years.

Photo: Copyright © by Maclean's magazine, June 1967
Nobody's hurt, but obviously these wildcatters are playing for keeps, and Gerry Germain, project manager for Walsh Canadian Construction, is just about out of his skull. He's got to turn in another of those weekly progress reports, but this time, with the news he's got, those guys in the Expo office are just going to have to face a few realities.
"Please note," his memo begins, "that construction of our cofferdam, as shown on network No. 0-29-11-500, Nodes 35-36, has now been delayed six days due to current trucking strike..." He tells how they kept the trucks moving for just four hours that Saturday, what with all the violence, and then he tries to be reassuring: "As soon as labor conditions permit, we will resume construction activities on this project."
But Colonel Edward Churchill, Director of Installations for the Canadian Corporation for the 1967 World Exhibition, is not at all reassured. The Colonel, as he is respectfully known up and down the ranks at Expo, didn't build 192 airfields all over wartime Europe by listening to excuses. His reaction is pure automatic reflex:
WE WISH TO ADVISE YOU, he wires Germain, THAT THE VERY NATURE OF OUR PROJECT PREVENTS US FROM ALLOWING ANY CONTRACTOR NOT TO COMPLY WITH THE DATES AND OTHER CONDITIONS OF HIS CONTRACT. WE ARE THEREFORE REQUESTING THAT YOU TAKE WHATEVER STEPS ARE NECESSARY WITHIN THE LIMITS OF YOUR CONTRACT SO THAT WORKS ARE PROCEEDED WITH WITHOUT DELAY AND TERMINATED ON TIME THE WHOLE UNDER PENALTY OF ALL RESULTING DAMAGES.