May 23

Expo 2017 team continues their campaign to see Montréal host another world's fair

Montréal Mayor Gerald Tremblay was quick off the mark to downplay a recent proposal announced in the media that envisions how the city of Montréal could host another world's fair in 2017. The proposal was submitted to Tremblay by the Expo 2017 team based in Vancouver. However, in spite of the Mayor's comments, Rick Barham and his Expo 2017 team are still working hard behind the scenes to move forward, their proposal.

"We're contacting politicians, business people, the creative sector, you name it," said Barham, executive director for the Expo 2017 team. "We are also doing an interview with Radio Canada and will hopefully be getting the Federation de la Francophonie on board," he said.

"We are busy studying the 155 page proposal for Montréal's transit system [that was recently announced by Mayor Gerald Tremblay] and will be putting together an assessment and reply, i.e., how well it ties into Expo 17. We also hope to put together a preliminary assessment of the diking of the Saint Lawrence at the Technoparc," explained Barham.

"Most importantly, we have to keep the flame alive. We had quite a spike in visits to the web site after the press release," said Barham who hopes to see the groundswell of support continue to grow.

"Feel free to put the word out there. The internet is a big and powerful place."

Citizens of Montréal and residents across Canada wishing to support the proposal are encouraged to contact Montréal Mayor Gerald Tremblay. Just click on the e-mail image to add your support...

And to view the proposal, click here.
----------------------------------------------------------
The Official Press Release...
Group launches bid for another expo in Montréal
VANCOUVER, May 15 /CNW/ - On the 28th of April - the 40th anniversary of the opening of Expo 67 - an independent group submitted a proposal to the city of Montreal for an exhibition in 2017 to mark Canada's 150th birthday, or Sesquicentennial, as it's referred to officially. "We considered a number of options," says executive director Richard Barham, and came to the conclusion that Montréal is hands down the best city to hold another expo."
Considerations included availability of land and attractiveness of location, social, economic and environmental benefit, and presence of both official languages. The proposed exhibition would involve a revival of the Habitat concept, immensely popular at Expo 67, as well as the cleanup of the Saint Lawrence River. More info and the proposal can be viewed at www.expo17.ca.

For further information: Richard Barham or France-Emmanuelle Joly at (604) 253-2137.
See also: West Coast group pitches Expo 17 for Montréal by Anne Sutherland, the Montréal Gazette.
----------------------------------------------------------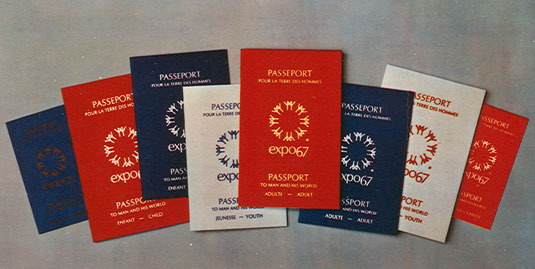 BRING YOUR EXPO 67 PASSPORT TO LA RONDE
AND GET IN FREE ON JUNE 16-17
PLUS FREE FAMILY PORTRAITS ON THOSE TWO DAYS!
----------------------------------------------------------
Expo 67 Weekend – June 16-17
La Ronde will celebrate in its own special way the 40th anniversary of the Montreal World's Fair – Expo 67. Guests who present their original Expo passport will receive a free Daily Ticket. And for this special occasion, our photographers will take a no-charge photo of children and families. Our Expo 67 hostesses will give you a warm welcome. Don't miss our "go-go stiltwalkers", fire-eaters, hot dogs for 67¢ and Jean-Guy Moreau's show on Saturday, June 16 at 7 p.m. at Le Jardin des Étoiles.
Click on the following link for La Ronde's entire schedule of events from May 19 to October 28, 2007. The events listed on the link are from La Ronde's official press kit released on May 3rd...
"Cap-Aux-Diamants" presents in their spring edition, "EXPO 67: LA DÉCOUVERTE D'UN QUÉBEC ÉBLOUISSANT." It has several pages dedicated to the fair and this French language publication is currently available (as of this writing, May 3rd) in fine magazine stores in the province of Québec.

This edition is No. 89 and translation of the title on the magazine is: "Modernization, changes turbulences - the decade 1960."

"Cap-Aux-Diamants" has been publishing for twenty years covering Québec history and the various arts forms which is written by respected authors and historians.

Official web site: Cap-Aux-Diamants

----------------------------------------------------------

PIERRE REVIEWS THE FAIR

Pierre Berton was an established Canadian media personality who received four major literary awards and was made a Companion to the order of Canada. In the June 1967 edition of Maclean's magazine, Pierre Berton reviewed Expo 67. Here are some of the highlights from his excellent report...

• "WITHIN MINUTES of my arrival at Expo I fell captive to an unexpected emotion: a moistness in the eye and a husk in the throat of the kind one usually experiences only in moments of national stress: when pipes skirl, troops march or ships take their leave in the night. It was nationalism, unabashed, and I discovered later that others had felt it, too. The same phrase fell from every lip that opening day: We did it! And, by and large, by God, we did it well.

• "It is a fair with class, in which the very act of strolling about becomes an aesthetic experience. The presence of so much water -- canals, lakes, fountains, pools and the great river itself -- has given Expo a unique quality and made a hero out of Jean Drapeau, the mayor who fought so valiantly for the island site. Even the dull pavilions are fun to look at and so are the various hostesses -- smart, cheerful, aggressively helpful -- all dressed in the smartest uniforms and costumes yet.

• "The fair is at its best, I think, when things go plonk and jump about a bit. Chris Chapman's wonderful movie in the Ontario Pavilion does just that. So dazzling, indeed, are Expo's varied cinema techniques, that one tends to become blasé. Is this why I felt slightly let down by Labyrinth, the most ambitious of all? Or is it because, for all the exotic techniques, it succeeded only partially in getting me involved? All the same it is a bold try and is not to be missed.

• "I find it intriguing that the major Western films I saw at Expo were brilliantly earnest while the two standout films made by Communists were brilliantly funny, even frivolous. One is the inventive mixture of live action and film the Czech Laterna Magika, at La Ronde. The other, in the Czech Pavilion, is the push-button movie in which the audience votes on plot changes. Both are musts. So, to me, is the carousel show in the polar exhibit which has the most interesting Arctic footage I've seen and the ingeniously simple film in the Kaleidoscope Pavilion, which uses mirrors and colored lights to create some exquisite effects.

• "The U.S. Pavilion -- which is really a happening -- had a similar effect on me. After the impressive oppressiveness of the USSR's phalanxes of machinery, I found it an unexpected delight. I mean, one expects places like Jamaica and Trinidad to be gay and frivolous: but the United States? The Russians are selling awfully hard at Expo; the Americans, by relaxing, make their own subtle point.

• "This kind of psychedelic walk-through seems to me to point the way to the future of communication. It reaches its peak at Expo in the marvelous Man in the Community Pavilion, a McLuhanesque series of experiences using sounds, flashing lights, sculptures, music, animated cartoons -- everything you can think of that moves, jiggles and goes plonk -- to get its message across. The information is conveyed emotionally, through the pores, not the mind, and I'm all for that.

• "The satisfaction of Expo are endless....And threaded through it all, the constant moral: that man's future, clouded and uncertain, rests in his own hands. Look around you at these marvels, Expo says, and see how far you've come. Do you really want to louse it up? It is a soaring and noble theme, worthy of the global village we have devised for it; and any Canadian who walks those streets can be forgiven if he feels momentarily a moisture in the eye and a certain huskiness in the throat."

Pierre Berton

© Maclean's Magazine, June 1967 edition. All rights reserved.

Should Canada host another world's fair in 2017? We say: ABSOLUTELY!!!

As Pierre Burton has demonstrated in his report, Expo 67 sparked a real sense of nationalistic pride for Canadian's who had visited the fair.

I know that Expo 67 did the exact same thing for me when our class from St. Daniel's elementary school in Ottawa went up to Montreal by bus with prepared boxed lunches. We arrived at Expo 67 at around 9:00 a.m. to begin our tour of the fair.

The first stop was the Ontario Pavilion and then on to the Kaleidoscope Pavilion as we walked across the man-made island of Île Notre-Dame. The architecture of the pavilions was stunning and so futuristic to look at! There was the USSR Pavilion and across it, the USA Pavilion, each pavilion a marvel in their own right. And there were many others, too! One only has to explore this website to see what was built in 1967 to appreciate the architecture of each pavilion. Forty years have passed and each of them still look as modern and futuristic as they did back then. That tells you a lot about the vision that Expo planners had in mind at the time.

During our trek through Expo 67, we stopped briefly to take a break. I remember standing and looking around, soaking it all in with my classmates. And then it had occurred to me how amazingly that both the French and English cultures were able to come together and to have put on such a great Expo! It was like a blending of two cultures together, forming a real bond of "nationhood" that finally arrived and telling the world that CANADA HAD SOMETHING TO BE VERY PROUD OF!

Since then, much time has passed. We've had the greatest hockey match ever in 1972 known as an eight game "Summit Series" held between Canada vs. USSR. That very dramatic contest saw Canada eventually defeat the Russians to win the series in the dying minutes of the final game. In 1976, Montreal hosted the "Games of the XXI Olympiad" with Canada winning five silver and six bronze medals. Vancouver hosted "Expo '86" held on the north shore of False Creek. The fairs theme at the time was "Transportation and Communication: World in Motion - World in Touch" that attracted 22 million people. In 1988, Calgary hosted the XV Olympic Winter Games. A surplus of between $90-$150 was made from the event.

Those were good success stories for Canada.

But after Expo '86 and the Calgary Winter Olympics, Canada became "rudderless" (or "stalling" as it were) in the direction where it should take itself next as a nation. The quibbling over "distinct society status" for Quebec has hurt us. Over time, Canada and its federal parliament became fractured by political regionalism represented by special interest groups, thus alienating the country and its people even more. In yesterday's Ottawa Citizen, on the main page near the bottom, a headline caption for a Norma Greenway article read: "Minority governments: Get used to them - Fractured political landscape makes majority unlikely."

As a Canadian, that's actually a pretty scary idea. For if Canadian's keep electing minority governments based on political regionalism and their special interest groups, then I can assure you that eventually nationalism will erode over time and then the Québec separatists will have won.

The other problem is that our political masters tend to do more "brandishing" of policies that originate due south of the Canadian border. For example, since the 9/11 terrorist attacks, we are currently embroiled in the Afghanistan war on terrorism while the United States has troops occupied in Iraq. That said, for obvious reasons both Canada and the USA do need each other. We wouldn't enjoy the freedom that we have today if we didn't pull our weight.

However, it doesn't hurt Canada to assert and define herself more as a nation, a country with its own dreams and cultural vision, truly unique and distinct from the American one.

Expo 67 was one such cultural event that did exactly that and it was created in a decade that would be remembered for its great conflicts and tensions...

The USA was reaching the height of the Vietnam war, losing countless soldiers in a war they eventually didn't win. The country also lost two of its great political figures: Robert Kennedy and civil rights leader Martin Luther King were both assassinated.

Abroad, the Israel and Syria conflict broke out and as a kid I remember thinking how sad that had happened. I'd come home from school and watch the evening news reports trying to understand why it happened. The war would last 6 days until Israel finally observed the UN ceasefire.

And Canada too, had defined its own unique problem: Québec separatists were placing terrorist bombs in "mail boxes, railway bridges, armories and other emblems of perceived federal oppression1."

With all the gloom and tension from that period, Expo 67 represented a beacon of hope not only to Canada, but to the rest of the world. Expo 67 also provided a window of opportunity for the country to overcome its inferiority complex.

Expo 67 did just that. But today this country desperately needs something to return it to its former greatness and glory, something that will pull the country together rather than divide us...

CANADA NEEDS ANOTHER EXPO!!

Which is why this website fully endorses Expo 17 team's "EXPO 2017" proposal.

John Whelan
Proprietor for the Expo 67 in Montreal website
April 29/07


Two financial success stories resulting from Expo 67

ASTRAL MEDIA:

In 1961 the Greenberg brothers open Angreen Photo Inc, a photo finishing concession in Miracle Mart stores.

By 1963, they acquire "Bellevue Photo" labs in Montreal and expand their activities in Toronto and Calgary.

In 1967, their success story really takes off after getting "exclusive rights to sell photo products on the Expo site and souvenir slides worldwide. This contract provides them with the solid financial foundation they need to realize their ambitions.2"

From that point forward to the present, the Greenburg empire grew into what has now become Astral Media with business streams in radio, television, movie production, box office comedy ("Chez Porky" in French), video reproduction, and pay-TV.

Here are some of the pay-per view networks they launched: "The Movie Network;" "Super Écran;" "Family Channel." They also launch English and French channels "Teletoon/Télétoon."

Today, Astral Media has become one of the largest broadcast mediums in Canada.

For the complete history of Astral Media and the Greenburg empire, please click: Astral Media

METRO INC:

The name at first glance, "Metro Inc.," might seem unfamiliar to you but once I start naming the stores and products they own, you'll begin to recognize them immediately: "Food Basics"; "A&P;" "The Marché Richelieu;" "Super C;" "Loeb - through two acquisitions in Ontario and turned them into Super C supermarkets" and "Merit Selection - a banner name for grocery products."

They also own the following pharmacy chains: "Drug Basic" and "Pharmacy".

How Metro Inc was impacted by Expo 67 is indeed a very interesting story. Their website writes the following:

"Expo '67 marked an important step in the development of the food industry, prompting retailers to offer the new products their customers now sought.

"For Les Marchés d'Aliments Metro-Lasalle Ltée, this date was also important in that it marked an alliance with Épiceries Richelieu limitée, another group of retailers. After countless studies and discussions, the two companies decided to create a jointly managed meat distribution company as equal partners. The project was designed to improve service to members, allowing them to benefit from efficient service, as well as improved purchasing conditions and rigorous quality control. Once the agreement was ratified, the two companies announced the construction of a vast 35,000-square-foot warehouse in Montreal North, to house future facilities of Bouef Mérite ltée.

"At the end of the 1967 fiscal year, Les Marchés d'Aliments Metro-Lasalle Ltée posted excellent financial results. Once again, the year closed with an increased in warehouse sales, which were slightly over $70 million. Some 20 years after its creation, the Company boasted 245 stores, 171,400 square feet of warehouse space, consolidated assets of close to $7 million and $1.9 million in operating capital.3"

For the complete history on Metro Inc., please click: Metro Inc.

1. "Hazy Days of Summer '67", Peggy Curran, Montreal Gazette, April 28, 2007

2. "Astral Media - Complete History"

3. "Metro Inc. - History"

----------------------------------------------------------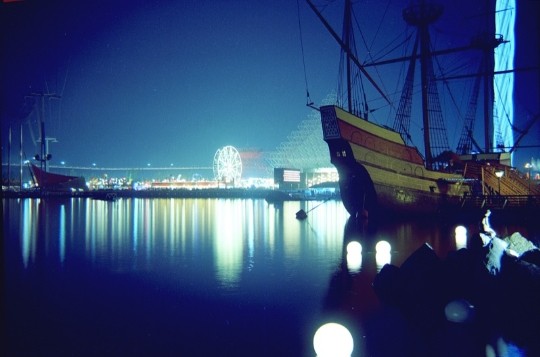 Photo sourced from Flickr.com
April 28/07 - 40 years ago today Expo 67 opened to the general public. The Montreal Gazette remembers the fair...
Passport to a world of literary possibilities by Monique Polak; Expo's language legacy? Its own name by Mark Abley; Optimism made 1967 a wonderful year; Expo and a new outlook; Around the world in a day by Bill Bantey; Expo: An opportunity lost?; 1967 Our Summer of Love by Juan Rodriguez; Symbol of promise, tinged with decay by Henry Lehmann; Faith meets reason by Harvey Shepherd; In the mood for mod by Eve Friede; Overnight, everything changed by Eve Friede; Dinner would never be the same by Donna Nebenzahl; Habitat: A unique address by Mary Lamey; Hazy days of summer '67 by Peggy Curran
From the National Post: EXPO '67: Allen Abel on colliding worlds at Montreal's world fair
----------------------------------------------------------
Held over by popular demand, Claude Latour's "Expo 67: 40th Anniversary Conference" will be presented on May 9th
We have received confirmation from Claude Latour that his popular Expo 67 presentation will be shown for a second time at the same venue as the first one:
Date, time and location: Wednesday, May 9, 2007 at 7:30 p.m. in the large room of the cinema club of the O.N.F., located at 1564 Saint-Denis, in Montréal (Berri-UQAM subway).
Claude Latour, political science graduate from the University of Montréal, will be presenting audio and visual extracts about the great adventure of Expo 67. The presentation will be done in French language only. Those wishing to attend this conference should book their tickets ahead of time: Expo 67 - 40e anniversaire
----------------------------------------------------------
Carousel's restoration costs now confirmed by Six Flags Incorporated
Both initial press releases from the Montreal Gazette and CNW Telbec (March 15) were in conflict with each other regarding restoration costs to the world's oldest galloping carousel at La Ronde. The Gazette reported a figure of $1.5 million while CNW Telbec reported $75 million. Yesterday, we received an e-mail from Six Flags Incorporated providing clarification about the cost:
April 27, 2007 8:38:55 AM
Re: Information regarding the Carousel
Good morning,

The cost is an average of 1 million $..

Best.


Nadia Goyer
Chef de division - Relations publiques
La Ronde - Membre de la famille Six Flags
Tél. (514) 397-2001 poste 2703
Téléc. (514) 397-7762
ngoyer@laronde.com
----------------------------------------------------------
April 27/07 - CTV in Montreal: Expo 67 Anniversary inspires push for new Montreal with videos and a written article that interviews Yves Jasmin, Public Relations Director for the fair.
CBC News: Mayor kicks off Expo '67 anniversary with bid for financial boost.
CBC Television 9:00 p.m.: "THE NATIONAL" featured a special tribute on Expo 67 (online links to the broadcast not available at the moment.)
The Montreal Gazette: 'Up up and away' to the summer of 1967 written by David Johnston.
----------------------------------------------------------
The following is a French podcast from 98.5 FM in Montréal with a featured interview with Claude Latour who made contributions to this website:
Bonjour ;

Vous pouvez écouter l'entrevue que j'ai donnée sur 98.5 FM ce matin 27 avril, pour souligner le 40ème anniversaire de l'inauguration d'expo 67.

Cliquez sur le site ;

http://www.985fm.ca/emission_showbiz.php

et cliquer successivement sur la première et seconde partie de l'entrevue pour l'écouter.

Merci

Claude Latour
----------------------------------------------------------
Montreal turns to memory of Expo 67 to inspire city's renewal
April 26/07

By: JONATHAN MONTPETIT

MONTREAL (CP) - The French pavilion is now a casino, part of the American pavilion went up in flames and the mini-rail has since been replaced with the more thrilling rides of an amusement park, yet for many Expo 67 remains the moment when Montreal proved itself to the world.

Forty years after the landmark fair, Montreal's mayor is hoping to channel the legacy of Expo 67 into his own ambitious renewal project for the city while others see lost opportunity.

"We have to use this anniversary as a new jumping off point," Gerald Tremblay told business leaders on Thursday as the city kicked off its Expo anniversary celebrations.

In 1967, Tremblay was a law student at the University of Ottawa who paid a visit to Expo. He used Thursday's event to repackage a series of initiatives that aim to create a downtown festival district, a new harbour front and a network of high-tech centres.

"Like the big projects that made the Montreal of today, these are long-term projects that require as much rigour and perseverance as audacity," he said.

Some in the business community say Montreal desperately needs to recapture some of the magic of Expo 67.

The city's economy is only now recovering after years of anemic growth, but is still growing slower than other hubs such as Toronto, Calgary and Vancouver.

Montreal has also been criticized in recent months as dirty and unwelcoming to tourists.

"Forty years ago Montreal was moving, shaking, Montreal was thinking about herself as the best and was aiming to stay the best," said Isabelle Hudon, the head of Board of Trade of Metropolitan Montreal, whose parents brought to her to fair as a baby.

"I think we have to revive that spirit."

For others, such as Claude Latour, Expo 67 simply marks a missed opportunity.

The 51-year-old amateur historian is what you might call an Expo fanatic. He gives 855-slide presentations about the 1967 world's fair.

Latour, who works in the multimedia industry, remembers walking through the grounds as an 11-year-old boy and thinking he had stepped into the future.

"Everything was possible," Latour recalled in a phone interview, pointing out that 28 million metric tons of earth were excavated from Montreal's growing subway system were used to create the fair's island site.

"There was a lack of long-term vision of political leaders (after Expo)," he said. "It's like after Expo, there was like an apothesis and nothing happened."

Little of Expo's audacity remains on the Montreal skyline.

The frame of the 20-storey geodesic dome designed by Buckminster Fuller remains a quirky landmark. Habitat '67 is still a striking housing complex shaped like a stack of shoeboxes on shores of the St. Lawrence River, although it has gone from a model of affordable housing to pricey condos.

Latour bemoans that little is left of the exposition dubbed Man and his World to remind us of the hope it spawned. In the years after Expo, the site often served as a stand-in for post-apocalyptic visions of the future for movie and television productions.

Latour says today's politicians lack the vision necessary to reproduce the spirit of '67.

"At that time there were leaders who did things for us, and they succeeded," he said. "That's how you progress."

More than 50 million people visited Expo 67 and its success may seem obvious in hindsight, but then Montreal only earned the right to host the fair after officials in Toronto declined, fearing it would flop.

Hudon thinks that Montreal's revitalization depends on a similar streak of daring.

"We're still benefiting from (Expo)," said Hudon. "Everything is possible when we dare, we dream and we have drive."

Tremblay's revitalization plan may not capture the city's imagination as Expo once did, but in many respects it is no less ambitious - ensuring Montreal's place as a world-class metropolis.

"I hope that I have convinced people today that Montreal is a city of return," he said. "I would like citizens of Montreal to be as excited for the future as they were in 1967."
Copyright © by the Canadian Press, all rights reserved.