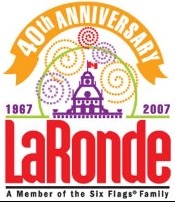 40 years, 40 events
Calendar of events
40th Anniversary Party – Saturday, May 19 to Monday, May 21
At 10:30 a.m. on May 19, La Ronde opens its doors for the 2007 season and invites you to join in its big 40th anniversary celebrations. On the May 19-21 opening weekend, the city of Montreal will be saluted. Mayor Gérald Tremblay will be on hand for the ribbon- cutting ceremony and the reintroduction of the antique carousel, now called Le Galopant. A Jeunesse d'aujourd'hui show starring Joël Denis and his go-go dancers will give a real "Swinging '60s" atmosphere to the event.
Coke Family Celebration – Saturday, May 26
Families will enjoy a treasure hunt, handicrafts and face painting during the Family Celebration presented by Coke. The first 2500 arrivals will receive presents.
Rock Fridays at La Ronde – Fridays from June 8 to Aug. 24
A tribute concert will be performed every Friday from June 8 to Aug. 24 on the floating stage at Lac des Dauphins. Admission to all shows is free for Daily Ticket and season ticket holders.
June 8: Tribute to Metallica
June 15: Tribute to AC/DC
June 22: Tribute to Québec rock
June 29: Tribute to U2
July 6: Tribute to Green Day
July 13: Tribute to Elton John
July 20: Tribute to The Beatles
July 27: Tribute to Bon Jovi
Aug. 3: Tribute to Led Zeppelin
Aug. 10: Tribute to alternative rock
Aug. 17: Tribute to Pink Floyd
Aug. 24: Tribute to Aerosmith
Expo 67 Weekend – June 16-17
La Ronde will celebrate in its own special way the 40th anniversary of the Montreal World's Fair – Expo 67. Guests who present their original Expo passport will receive a free Daily Ticket. And for this special occasion, our photographers will take a no-charge photo of children and families. Our Expo 67 hostesses will give you a warm welcome. Don't miss our "go-go stiltwalkers", fire-eaters, hot dogs for 67¢ and Jean-Guy Moreau's show on Saturday, June 16 at 7 p.m. at Le Jardin des Étoiles.
L'International des feux Loto-Québec presented by TELUS, from June 20 to July 28
For a 23rd straight year, the world's biggest pyrotechnic arts competition will illuminate the Montreal sky. The following countries are taking part this year:
Wednesday, June 20: Spain
Wednesday, June 27: England
Saturday, July 7: Mexico
Wednesday, July 11: Hong Kong, China
Saturday, July 14: United States
Wednesday, July 18: Canada
Saturday, July 21: France
Wednesday, July 25: Germany
Saturday, July 28: La Ronde
Saint-Jean-Baptiste Celebration – Saturday, June 23
To celebrate Québec's national holiday, stilt walkers, chansonniers and percussionists will entertain you. Saint-Jean tattoos will be given to the very luckiest. There'll be a giant bonfire along with a concert paying tribute to Harmonium.
Grandparents Day
All children 12 years of age or under who bring along a grandparent will receive a free Daily Ticket for Grandma or Grandpa. An old-style photographer and a Dixie band will be on hand.
Camping and Caravaning Weekend – June 30 to July 2
This event is organized in collaboration with the Fédération québecoise de camping caravaning (FQCC). Motorized vehicles of all types will be on the La Ronde site for outdoor enthusiasts to enjoy. FQCC members will benefit from preferential rates and a draw for a trailer will take place at the end of the event.
Visit by Members of the Montreal Impact – June 26
The players will be delighted to meet with visitors to the park. On the schedule: an autograph session, games of skill, sports demonstrations and participation prizes offered by the Impact and La Ronde.
Yamaha Motocross – Aug. 4-5
Circuit motocross courses will be offered to youngsters 7 to 13 years of age. Also on the site will be displays of Yamaha motorcycles and Toyota cars. As well, there will be draws and prizes awarded, with surprises galore!
Chinese Weekend – Aug. 11-12
The Chinese festival returns to La Ronde this year with more than 300 artists. On the program: martial arts, traditional dancing and songs, Chinese food, calligraphy, painting and the Lion Dance. You're promised an altogether-different experience!
Ribambelle's Birthday Party – Aug. 18
Celebrating Ribambelle's birthday, mascots, percussionists and face painters will be on hand to delight the little ones, who are sure to be enchanted by a giant birthday cake and Ribambelle's birthday parade.
Saint-Tite Western Festival Weekend – Aug. 25-26
La Ronde will take on the look and feel of the Far West in honour of the Saint-Tite Western Festival's own 40th anniversary. Various country-and-western groups will perform throughout the weekend.
Belle Gueule All-Nighter – 9 p.m.-5 a.m., Friday, Aug. 31- Sat., Sept. 1
The All-Nighter is a can't-be-missed annual gathering. DJs and rock groups will perform from 9 p.m. through to 5 a.m. Come party with your friends (18 years and older).
Visit by Members of the Montreal Alouettes – Saturday, Sept. 1
The members of the Montreal Alouettes and the team's cheerleaders will be at La Ronde for an autograph session and to put La Ronde guests' skills to the test. Take the challenge!
Pyjama Party – Sunday, Sept. 2
The Pyjama Squad will be awaiting you for the big Pyjama Party. Visitors wearing their pyjamas will get 50% off the price of their Daily Ticket. The Space Cats will perform and a special fireworks display will close out the festivities.
Comedy Saturdays at La Ronde – Sept. 8-29
45-minute shows presented exclusively as part of La Ronde's 40th anniversary celebrations. Two shows each day, at 2 p.m. and 5 p.m. Admission is free for Daily Ticket and season ticket holders.
Sept. 8: Patrick Groulx
Sept. 15: Réal Béland
Sept. 22: Louis-José Houde
Sept. 29: Laurent Paquin and Les Improductifs
Great Halloween Celebration – Weekends from Oct. 6-28
Each weekend in October, La Ronde will be transformed during the Great Halloween Celebration. Vampires, zombies, witches, giant rats, bizarre characters and stiltwalkers will be around and about to scare you silly. The Haunted House, with its spooky inhabitants, will also be back.
----------------------------------------------------------------------------
Antique Carousel
The antique carousel dates from the end of the 1800s. Originating in Liège, Belgium, it arrived in North America in 1964 to embellish the recreated historic Belgian village at the New York World's Fair. In 1966, the Montreal World Exposition corporation (CCEU) acquired it in order to install it at Expo '67's Carrefour international (international crossroads). On Feb. 8, 1966, a contract in the amount of $75,000 U.S. was signed between the CCEU and the firm Bel / Jeau Waffles. In the years since it came to Montreal, the carousel has often been worked on, with some of this work consisting of regular mechanical maintenance and some having a more marked effect on its exterior appearance.

In its homeland, the carousel had not been installed permanently in the same place. Rather, it had accompanied the fairs held each year between March and October.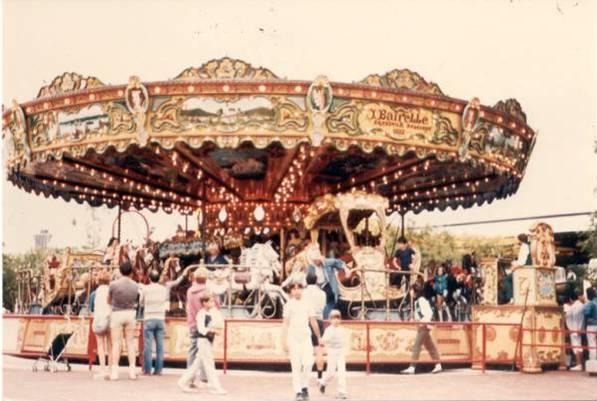 Photo courtesy of Six Flags Family

The carousel has been located in three different places since arriving in Montreal. During Expo '67, as mentioned, it was installed in the Carrefour international next to the Bavarian restaurant. The following year, it was relocated to Le Monde des petits (children's world), a more appropriate site in view of its clientele. It was last moved in 1984 to the Petite Ronde section when the park underwent certain changes.

Throughout the past 40 years, the city of Montreal has been in charge of the carousel's maintenance. Beginning in 1969, decorator Werner Schubert, who had been a church painter in Germany, was mandated to perform most of the required work on it. On January 1, 1978, the Association montréalaise d'action récréative et culturelle (AMARQ) was created. This non-profit para-municipal organization took over management of La Ronde, in the process assuming responsibility for the carousel's maintenance and enhancement. Restoration and decoration work was thus handled by employees of municipal workshops (painter-decorators and silkscreeners). With the carousel having deteriorated over the years, it was finally removed from the park in 2002. In 2006, Six Flags decided to completely restore it in order to return it to the site in 2007.

Technical sheet
Mechanical components:

- Motor (originally steam-driven, it was electrified at the start of the 20th century)
- Turning structure (system comprising 6 vertical cables and 6 crosspieces
- Platform (which slides on 2 rails) comprises 12 chariots resting on wheels and triangular sections
· In 1968, the metal section of the rails was changed
· In 1981, the wheels were modified. The outside metal strip was thickened.

Structural components:

24 wooden horses (fully repainted in 1969)
4 rococo-style gondolas (refurbished in 1975)

Decorative components:

- Cornice (refurbished in 1969 and again in 1987)
- Ceiling (replaced in 1978 and style change; baroque style chosen)
- Roof (changed to an aluminum roof in 1973-1974)
- Frieze
- Partition
- Platform panel
- Safety barriers
- Operator's station (positioned on the inside when the carousel was built, it was moved to the outside for safety reasons when the carousel came to Montreal in 1967)
- Mechanical organ (assorted work and general maintenance in 1970)
- Chimney (structural supports added in 1968)

A complete overhaul was carried out in 1983-1984 when the carousel was relocated. The horses, gondolas and operator's station were repaired and repainted.

----------------------------------------------------------------------------

News release

La Ronde to celebrate its 40th anniversary with its most original and exciting schedule of activities ever!

Come to La Ronde and join in on the fun!

Montreal, May 3, 2007 – To mark its 40th anniversary, La Ronde has scheduled a full line-up of activities to surprise and delight visitors throughout the 2007 season. Everyone's invited to come enjoy the festive atmosphere and have more fun than ever at the renowned amusement park.

40 years, 40 events

A schedule featuring 40 major activities is sure to captivate La Ronde visitors. In addition to 40 rides and attractions – including many of international calibre added in recent years – quality free shows of all kinds will be staged. Here's a brief overview of La Ronde's 40th anniversary program of events:

· 40th anniversary opening weekend in collaboration with the City of Montreal
· 12 rock concerts on the lake (every Friday evening from June 8 to Aug. 24)
· Expo '67 weekend June 16-17
· 9 fireworks extravaganzas (extra charge for reserved seating)
· 4 big family celebrations
· Camping Caravaning weekend June 30-July 2
· A visit by members of the Montreal Impact July 26
· Chinese weekend Aug. 11-12
· Western festival Aug. 25-26
· Nuit Blanche Belle Gueule 9 p.m.-5 a.m. Friday, Aug. 31- Saturday, Sept. 1
· Visit by members of the Montreal Alouettes Sept. 1
· 4 comedy shows starring Patrick Groulx, Réal Béland, Louis-José Houde and Laurent Paquin & Les Improductifs every Saturday from Sept. 8 to 29
· Festivities with a Hallowe'en theme throughout October
· Plus many other great activities to discover!

La Ronde is turning 40. Join the ride!

Opening weekend, Saturday, May 19 – Monday, May 21

La Ronde launches its big 2007 season on Saturday, May 19. The opening weekend will feature visits by Montreal's elected officials and thousands of city residents. Special activities will take place during the three-day holiday weekend. Montrealers who pick up their entrance ticket at their district Accès Montréal centre can take advantage of discount rates. Other municipalities will be saluted throughout the summer and their citizens will enjoy the same privileges.

Antique Carousel – Le Galopant

Also on the program of fabulous 40th anniversary activities will be the festivities celebrating the eagerly awaited return of the Antique Carousel – now called Le Galopant – on the May 19-21 weekend. La Ronde president Marc Tremblay is delighted about the return of this majestic ride, which park-goers will be able to admire in all its splendour.

"A special area showcasing Le Galopant and a wooded garden have been specially designed to enable people to learn about the carousel's history," he explained.

The Flash Pass: more rides, less waiting

New this season is the Flash Pass, cutting-edge technology that replaces the rapid-access ticket. Using this virtual ride-reservation system, developed by Lo-Q Virtual Queuing Inc., the holder can reserve a place in waiting lines. A limited number of Flash Passes will be available each day and will be validated on the day of purchase only.

Goliath: back by popular demand!

La Ronde's steel giant remains the most amazing thrill ride of them all. Canada's highest and fastest roller coaster is over 53 m (175 ft.) tall. After a drop of over 52 m (171 ft.), intrepid riders cover a 1.2 km (4,039-ft.) route at speeds reaching 110 km/h (68 mph) for over three minutes. If you're looking for extreme thrills, this is the ride for you – and it's only at La Ronde!

Clean, safe, accommodating

In 2007, excellence with regard to cleanliness is again a top priority. Close to $1 million has been invested in the renovation of many roofs, windows and buildings and the complete overhaul of many of the park's washrooms. La Ronde has acquired a tank truck and high-performance equipment for improved and speedier cleaning. Again this year, visitors will be able to enjoy a smoke-free environment. Meanwhile, designated smoking areas will remain available. Three new areas have been set up, making a total of nine to better meet visitors' needs.

Two new business partners

Two big names have joined the La Ronde family in 2007. The park is proud to welcome Les Brasseurs RJ and Pizza Pizza as major sponsors.

La Ronde is continually investing in order to offer its guests a memorable experience that includes high-calibre entertainment for the whole family. Once again in 2007, all visitors will benefit from the exceptional service provided by the entire La Ronde team.

About Six Flags: The world's largest regional amusement park firm and owner of La Ronde, Six Flags Inc. is a publicly traded company (NYSE: SIX) based in New York.


-30-


Information:
Nadia Goyer
Manager of Public Relations
La Ronde – Member of the Six Flags Family
Cell: (514) 809-6004
Office: (514) 397-2001, ext. 2703
ngoyer@laronde.com


Editorial: Special thanks to Nadia Goyer, Manager of Public Relations for La Ronde for e-mailing the official press kit, issued May 3, 2007, to the Expo 67 in Montréal website.

Official Web Site: La Ronde