August 24
In 1967, there were private and official canoeing expeditions trekking the great distances across Canada to commemorate the centennial year. They were all feats of adventure and human risk. Frances Bula, of the Vancouver Sun wrote an excellent piece focusing in on one group of private canoeist that made the trek...
Canoeists, other adventurers created 'spirit in the land' in '67
Material and spiritual legacies of Canada's centennial are everywhere
by Frances Bula, the Vancouver Sun, June 29, 2007
Thanks to 1967, this province got the Royal B.C. Museum in Victoria, the first four notes of O Canada played every noon at Canada Place in Vancouver, a road renamed Canada Way in Burnaby, the Nanaimo-Vancouver bathtub race, and any number of libraries, parks and swimming pools from Sechelt to Kitimat.
Thousands of schoolchildren (and out-of-school adults) visited the Confederation train and the Confederation caravan in what had to be the longest-running, most geographically dispersed social studies lesson in the history of the nation.
Those are the kinds of legacies that are all around us in B.C. from Canada's Centennial Year.
But there were other projects as well, not as concrete or visible or widely experienced 40 years later, that were part of that 100-year birthday.
Like Geoff Davis and Ken McRae's trip.
In 1967, Davis and McRae were 20 and 22 respectively, young guys from Kimberley who were studying arts at the University of Victoria.
They weren't Canadian flag-wavers in particular, but in the fall of 1966, they started to cook up an idea for something they could do in the summer of '67. They would paddle a canoe from B.C. to Expo 67 in Montreal.
They weren't the only canoe team around or even the only group of Canadians with crazy projects, in a country filled with the 20-somethings of the boomer generation who were hungry for adventure.
"There was a spirit in the land for sure," Davis remembers.
Bowsman, Man., decided to burn down its privvies in honour of 100 years of nationhood, while Frank Ogden of New Westminster launched a helicopter plus centennial caravan project on a 100-day tour of the country, starting at the Louisbourg fortress in Nova Scotia.
There were official teams from each province that made their way across the country.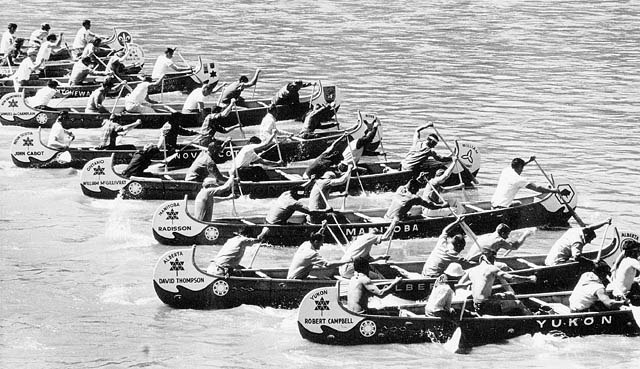 Photo credit: Frank Grant © the National Archives of Canada
The official Canadian canoeing teams: Voyageur Canoe Pageant on their way to Expo 67. They left Rocky Mountain House in Alberta, on May 24th, and will paddle 3,283 miles in 104 days to reach Montreal on September 4th.
As well, any number of private groups decided to make the trip. One group of Vancouver longshoremen left from Rocky Mountain House in Alberta and made it to Montreal by Aug. 11. A team from New Westminster set off April 1, with an elaborate send-off from the local authorities and colourful touches that would provoke gasps of horror today.
REACHED MONTREAL JULY 14
The four men on that canoe team -- 42-year-old Ralph Brine, a shoe store owner; Don McNaughton, 29, a B.C. Tel maintenance supervisor; Dr. David Chisholm, 28, and student Jim Reid, 23 -- were escorted by nine vintage cars, an antique fire engine, dancers and musicians in 19th-century costume, tugs and fire boats, and "eight canoes manned by New Westminster youths dressed as Indians [who] chased the Eastward Ho! canoe away from the government wharf at the foot of 10th Street, firing arrows from crude bows."
They arrived in Montreal July 14 with the help of an outboard motor they said was needed if they were going to make the trip in less than a year.
But Davis and McRae weren't part of any of those larger, more well-publicized or more official teams.
They went on their own, two kids with their maps and sleeping bags and cooking equipment, plunking their cedar-strip canoe into the Peace River on June 4. They'd be one of the last canoe teams to arrive in Montreal, getting there Oct. 6, just three weeks before Expo 67 closed.
They'd received some money for the trip from Cominco, where Davis's father worked back then, and the Times Colonist in Victoria promised to pay them for writing stories on the way. They borrowed the rest of the $2,000 they needed.
They bought a lot of good topographical maps and practised reading them, so they'd be able to figure out where they were. They read histories of Alexander Mackenzie and the fur trade. And they headed out, going backwards on the route Mackenzie travelled before them in 1793.
"The route we took was an old fur-trading route, so there were lots of natural places to stop," remembers Davis, who recently retired after more than three decades as a special-education teacher.
He and McRae got dumped in rapids a couple of times in the 6,118 kilometres between Fort St. John and Ottawa.
RIVERBANK CAMPING
One tip was especially scary.
"At the headwaters of the Churchill, we were paddling along and we didn't hear the noise. We went into a chute that ended in standing waves at the bottom."
They lost their cameras and pictures in that dump, but managed to save the canoe by swimming with it to shore, although they didn't dry out for three days because it was raining.
When they got to southern Manitoba, their maps were three years out of date and didn't show a dam had turned a river running through a forest into a lake with dead treetops poking through the water. They had to sleep in the canoe one night because they couldn't make it to shore, tying up to a treetop and not getting much sleep as they tried not to move the whole night.
But mostly they camped on riverbanks, looking for old forts and settlements left behind by the fur traders, walking into the nearest town for groceries and walking back again, so as not to spend too much money.
They arrived in Ottawa Oct. 1, docking their canoe in the Ottawa River just below the Parliament Buildings and walked up the hill to deliver a letter they'd been given by B.C. Lt.-Gov. George Pearkes to deliver to Gov.-Gen. Roland Michener.
He wasn't around, so people in the Parliament Buildings suggested they deliver it instead to someone who was in the building -- Lester Pearson.
"That was a hoot," remembers Davis. "He was all on his own in this room and he told us 'I used to do some canoeing.'"
When they finally got to Montreal, they were presented with free passes to the fair, which they visited several times, and got some write-ups in the local papers. Cominco people arranged a deal with the CPR to have their canoe and equipment sent back to Kimberley by rail, while Davis and McRae spent the winter hanging out in Montreal.
Davis, who now lives in Duncan, said he's inevitably asked about his trip whenever he's in a social gathering with newcomers.
And what he always says is how much the trip made him realize that mostly what it takes to accomplish a marvellous thing is just deciding to do it.
"The whole idea was that it's amazing what people can do. It is like one of those things you read about."
It also imprinted a love of the Canadian landscape.
"It gave me an appreciation of the outdoors. The outdoors is like another home in Canada."
While not everyone got to do something as archetypally Canadian as Davis, what shines through in reading accounts of the times and academic deconstructions of the event was how much people bonded with the idea of the centennial.
"Encouraged by governments to celebrate centennial in their own particular fashion, Canadians expressed their pride in astonishing ways," wrote Helen Davies, in her 1999 PhD thesis at the University of Manitoba on Canada's centennial projects.
TOQUES AND HAIRDOS
"They created centennial hairdos, participated in neighbourhood beautification projects, sewed centennial toques, planned dances, arranged contests, sponsored sports tournaments, hosted youth exchange programs, presented historical pageants and organized parades. Everyone was invited to the celebration and, as if to emphasize the point, the residents of one northern Alberta community constructed a UFO landing pad, just in case."
In spite of the fact politicians of all stripes started emphasizing the need to plan a Canadian centennial as early as 1957, Ottawa was slow to get it off the ground.
The centennial succeeded, concluded Davies, because regular people got excited about it and took it to heart.
That excitement was echoed in B.C., noted Jenea Tallentire-Gilley, a University of B.C. history graduate who looked at this province's centennial projects.
"Every little town had something," says Tallentire-Gilley, now an instructor at the University College of the Fraser Valley. "And everywhere I go, I see these centennial projects."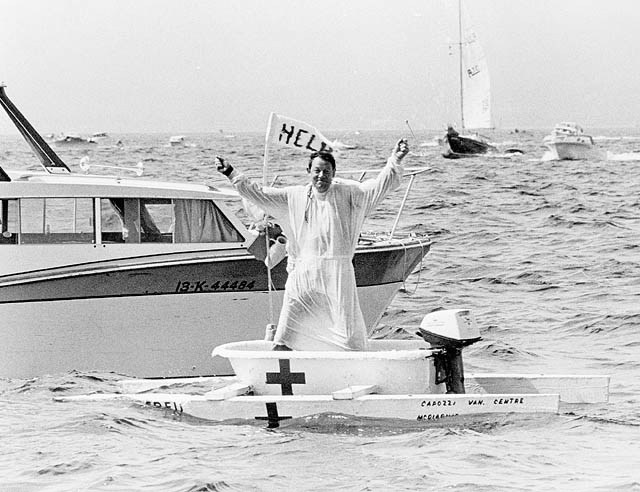 Photo credit: Jim Ryan © the National Archives of Canada
Other inspired centennial activity that took place: The Great International Bathtub Race held from Nanaimo to West Vancouver - one of the contestants was physician Howie McDairmid a Social Credit who set out on the SS SACRED in a hospital gown, but quickly floundered and didn't finish the race. The date of this event was July 30, 1967.
The official town committees most often built pools or parks or other community facilities that often didn't have much to do with the centennial theme, except for the plaque they all mounted somewhere.
The unofficial projects were more varied. Chemainus built a Centennial Water Wheel, "a replica of a Cornish water wheel which first powered the local mill in 1862, as a symbol of the community's connection to the lumber industry." In Comox, the mountaineering club undertook a nine-day trail-marking and improvement trip on Forbidden Plateau as its centennial contribution.
NATIVES CELEBRATED
Most of the projects in B.C. communities had little to do with history, even though they were celebrating the centennial. Only Port Mellon decided to do a written local history, which was actually an extension of their 1958 project for the centennial of B.C.'s creation as a colony.
Of course, they participated in a celebration that was reflective of its times. Committees were requested to get their local Indians involved, perhaps demonstrating their costumes and customs. "Pioneers" -- that is, mostly white people -- of the province got medals, in celebrations that had the flavour of a celebration of colonial settlement and (white) nation-building.
In spite of that, there were native projects and celebrations that took the centennial and adapted it to their own needs and customs, as Tallentire-Gilley's paper uncovers.
In Skidegate on the Queen Charlotte Islands, the Haida built a $135,000 community hall. In Kingcome Inlet, the local natives kicked off their centennial festivities a year early in May 1966, with an event that saw people wearing traditional masks, cedar-bark headdresses and button blankets who then "paddled down river in canoes to the sounds of Indian songs and were met by ceremonially dressed elders."
There was a dugout canoe race and spectators wore "centennial badges" made by local children. The local white pioneer family was invited to attend, a reversal of the order of things in most other B.C. communities.
But then, that was the spirit of the centennial. Everyone was free to celebrate in their own individual way.
They could build a golf course or turn the centennial into a native ceremony. They could create a centennial hairdo or a hiking trail. They could take off with a buddy to go across the country in a helicopter or a canoe.
It was all good. And it was a hoot.
© The Vancouver Sun 2007.
-----------------------------------------------------------