Walt Disney was born, Dec. 5, 1901, Chicago, Illinois and died Dec. 15, 1966 in Los Angeles, California.
September 27
The Disney connection to the Telephone Pavilion at Expo 67
At Expo 67, visitors to the Telephone Association of Canada pavilion saw a film presentation entitled "Canada 67". The designer, Walt Disney Imagineering, was a CircleVision 360° presentation which proved to be highly successful with 6,000,000 visitors to the pavilion. The movie was produced by Fritz Spiess ("called the dean of Canadian cinematographers" by his peers) and was directed by Canadian Robert Barkley. On October 1, 1982, Walt Disney Imagineering presented a CircleVision 360° film at the Canada pavilion at Epcot called "O Canada!" (a new film is to take its place in the fall of 2007 with famous comedian Martin Short telling the story.) For Expo 86 in Vancouver, they presented a CircleVision 360° film called "Portraits of Canada/Images du Canada" at the Telecom Canada pavilion.
The first instance where CircleVision 360° was used by Walt Disney and his Imagineering team was in 1955 at Tomorrowland that featured the following movie themes:
"A Tour of the West"
"America the Beautiful"
"Wonders of China"
"American Journeys"
Important links: Updated Epcot Centre film has Martin Short as voice of Canada from the CBC.ca Arts.
The Fritz Spiess Archive which includes his background, career works and obituary.
---------------------------------------------------------
September 26
The Great Ring of Canada

USA National Day at Expo 67 was held on May 25, 1967. Representing the USA at the time was President Lyndon B. Johnson. Source: "La Petite Histoire d' Expo 67" by Yves Jasmin, published by Québec/Amérique.

THE GREAT RING OF CANADA

By Steuben Glass; crystal, rhodium plated steel; 1967.
CMC D-10620

On the steel base of The Great Ring of Canada is the message "For the People of Canada on the Centenary of Canada's Nationhood from the People of the United States of America." Presented at the world exposition in Montreal, in 1967, to Prime Minister Lester B. Pearson by President Lyndon B. Johnson, this treasure symbolizes the friendly and cooperative relationship that exists between these two countries.

Image and the above write-up: © Canadian Museum of Civilization Corporation

Important links:

Steuben Glass - Meet the Designer: Donald Pollard

New Brunswick Plating, Incorporated
---------------------------------------------------------
September 22
"Exporama" - an Expo 67 touring promotion in 1966/67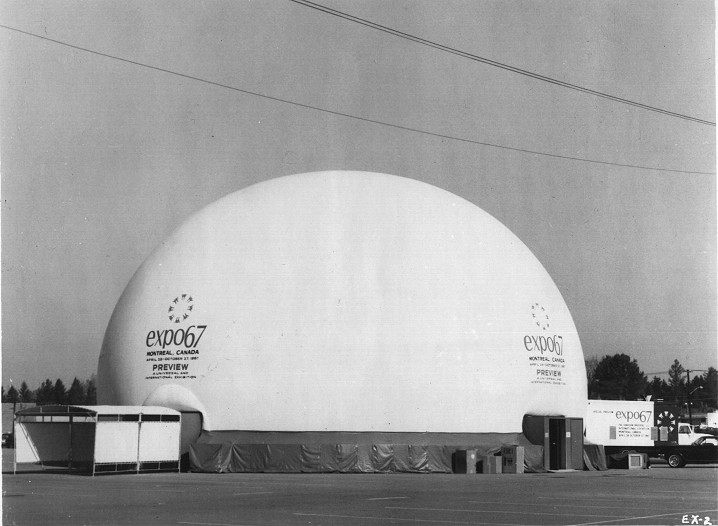 The idea for Exporama was born sometime during the middle of 1965. "Exporama was a travelling live show on three stages and an audiovisual presentation lodged in an inflatable 20 X 40 meter circular structure which was presented in 16 North-Eastern US cities during the summer of 1966," writes Yves Jasmin, former Director of Public Relations, Marketing and Communications for Expo 67. He went on to say that Exporama continued touring into the spring of 1967.
Click on any of the "Exporama" thumbnails for a larger view...

"Exporama" images are from the Daniel Morency collection with our sincere thanks!
---------------------------------------------------------