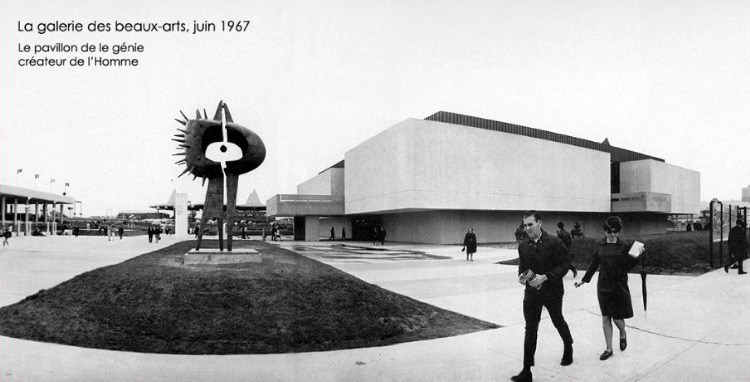 Image from WorldsFairPhotos.com, the Bill Cotter collection, with our sincere thanks.
Man and His World International Fine Arts Exhibition Expo 67 Montréal Canada
Art is the sublime manifestation of Man -- his part of divinity.
The artist creates. Whether his inspiration springs from the world surrounding him or whether it wells from the secret arcana of his being, he gives shape, rhythm and beauty to the work being born -- to a certain extent by his hand, but more profoundly by his soul.
All these works of art which have come to us from the remote past, if not more recently, comprise humanity's most sacred heritage. But it is only the privileged few who can become acquainted with all of it, make it their staff of life. One must be able to travel.
A unique occasion is now offered. It is not for us to go towards the masterpieces, but for them to come to us, thanks, on the one hand, to the co-operation of a group of specialists, whom I thank from the warmest depths of my friendship for their lovingly selected collection of some two hundred paintings, sculptures, mosaics, tapestries, manuscripts and other works of art, which illustrate the theme of our World Exhibition and, on the other hand, thanks to the most highly appreciated generosity of the governments and participating countries, and of a few private collectors, who have accepted the risk entailed by the removal of these works of art, so that you may admire them.
I must also express our warmest gratitude to the authorities of the National Gallery of Canada, for accepting the responsibility of presenting this exhibition and for producing the catalogue with all the competence that such a task requires.
Let us now leave it to the masterpieces themselves to speak to all who can understand them.
Pierre Dupuy
Commissioner General