Canada's early growth and indeed her very existence as a nation following Confederation depended on the construction of rail lines to link the provinces and to span the continent. It is fitting, therefore, that the Confederation Train should traverse the country in 1967 to remind Canadians of this historical fact.
But the Confederation Train is no ordinary train. It is a train of adventure; a moving panorama of Canada from pre-historic times through Confederation to the present.
For the hundreds of thousands of Canadians and their guests who will visit the train as it stops across the country during 1967, it will be a lasting experience. They will come to know what it was like in Canada after the ice age lefts its indelible mark upon the land. They will come face to face with the realities experienced by the first settlers and explorers. They will be able to pause and reflect upon the meaning and significance of Confederation itself in the chamber devoted to this memorable event.
The visitor to the train will feel what it was like to take steerage passage to Canada from Europe as so many Canadian immigrants did. He will be surrounded by the atmosphere experienced by the Canadian soldier in the First World War. He will be taken dramatically through the boom and bust of the twenties and re-live the atmosphere of the hungry thirties.
How can all this possibly happen within the confines of six specially designed railway cars? That is the surprise that awaits each visitor as he passes to enter the train. It is a surprise that must be experienced.
The Confederation Train will make exhibition stops in most of Canada's major cities and towns. It will begin on the west cost at Victoria, B.C., on January 9th and move eastward until it reaches the Maritimes on October 26th. Then it will swing back into Québec for a four-city tour before completing its itinerary in Montréal.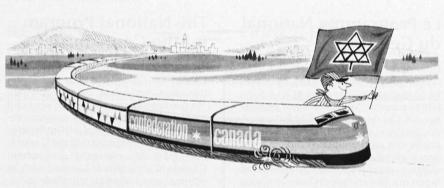 Related links:
The Story behind the Story on the Confederation Train: "Sea to Shining Sea - Millions journeyed through Canada's past aboard the Confederation Train" written by David Graham and Laura New for the Quebec Heritage News (presented in PDF format, pages 18 and 19.)
From the Canadian Railway Hall of Fame: "O Canada" sound bite from the horn of the Confederation Train plus an eloquent historical write-up about the train.
From the Niagara Railway Museum: A photo of the Confederation Train at Niagara Falls, July 26-28th, 1967 plus an interior photo of the train depicting a Mining Exhibit.