Suggested playback media:


"CA-NA-DA" - the orchestral version by Ben McPeek
Click on the above 45 r.p.m. image for a larger view of the record label and to listen to the song, please click the flashing "On Air" icon.
Biography of Ben McPeek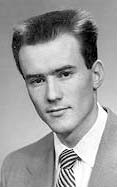 Benjamin Dewey McPeek was born on August 28, 1934, Trail, British Columbia. During his teenage years he was fast becoming an accomplished musician. Due to the geographic location, he was faced with a rather tough decision concerning his pursuit in music: should he move and study music in Hollywood or in Toronto? He chose Toronto and in 1953 he enrolled at the University of Toronto and by 1956 he graduated with a degree in music. McPeek also studied music at the Royal Conservatory of Music in Toronto.

His career started as pianist performing with various Toronto dance bands. Word eventually got around about his musical abilities and so McPeek found himself singing on the Canadian Broadcasting Corporation (CBC) with the Five Playboys.

McPeek's musical growth and diversity really blossomed in the 1960's having a profound impact in the Canadian music industry and culture. "Entering musical theatre in 1960 as music director of the review Up Tempo 60, produced at the King Edward Hotel, he wrote music 1963-8 for That Hamilton Woman, Suddenly This Summer, Actually This Autumn, and the 1968 Spring Thaw," writes Helen McNamara for the Canadian Encyclopedia website. And in 1963, McPeek composed the words and music for an opera entitled The Bargain which was based on the Faust legend. His original piano score for The Bargain is administered today by the Canadian Music Center. The score was especially written for tenor, mezzo-soprano and bass-baritone. The Bargain would eventually be telecasted on the CBC Montréal network in 1966.

In 1964, he established Ben McPeek Ltd. whose company would provide musical jingles for Chargex, Speedy Muffler King, Toronto Dominion Bank, Labatt's brewery and the Canadian National. McPeek became known as the "Jingles King" -- certainly one of the most busiest ones at that time in Canada, writing at least 2,000 jingles in his career.

For Canada's centennial, McPeek did the orchestral arrangement for Ca-na-da which was composed by Bobby Gimby. Ca-na-da was sung by the Young Canada Singers and it became a runaway smash hit in Canada for Quality Records, peaking at #3 on the national charts. "Over the next few years, the recording of Ca-na-da sold half a million copies. There were some 50 different recordings of the song," write authors Alex Barris and Ted Barris in their book, Making Music - Profiles from a Century of Canadian Music. McPeek would revisit the song a second time doing his own instrumental jazzed-up version of the Gimby song. It too was released on Quality Records.

For Expo 67, McPeek was commissioned to compose music for the Canadian Pulp and Paper Pavilion. "Are you aware that Ben composed the music for the Canadian Pulp and Paper Association pavilion for Expo 67? He did indeed," exclaimed Allan Macmillan who became a good friend and business associate to McPeek. "I recall he made a number of trips to the site to supervise the installation of the audio track containing his music. On those occasions, I held the fort back in Toronto while he was absent. Hey...a taste of responsibility!"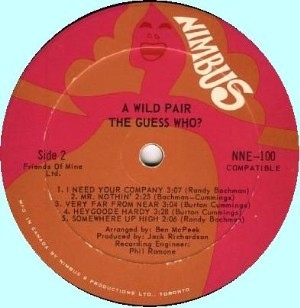 "A Wild Pair" was recorded at Hallmark Studios in Toronto that featured the Staccatos on side 1 and the Guess Who on side 2. The album "Wild Pair was indeed the very first Nimbus 9 release." - Allan Macmillan. (Click the Nimbus 9 label to view side 1.)
March 1968 would see new challenges for McPeek as he and three other principal partners launched the Nimbus 9 record label. "Ben and Jack Richardson and I were 3 of the 4 founding partners in the Nimbus 9 Productions music group," said Allan Macmillian, "which came into being in 1968." The fourth member, according to author John Einarson who wrote American Woman - The Story of the Guess Who, was Peter Clayton. Two years later, Macmillan brought on board a fifth partner to the label: Bob Ezrin and he became assistant Musical Director to Macmillan.
The Nimbus 9 partnership stemmed from "several years collaboration working on ad conceptions and music to fit for the 'Youth' campaign for the Coke account," said Macmillan. They had other clients too, at the time: McCann, Erickson who were responsible for the Honda commercials. "Remember Honda cycles '2-wheeled freedom on a Honda?'", lamented Macmillan. "That was Burton Cummings' distinctive voice and from the discovery that the record deal the Guess Who had (with) Quality Records was expiring. Clearly, both Jack and Ben saw an opportunity here to sign the Guess Who...a group with a future one might say."
Thus it was the Coca-Cola account that caused McPeek, Richardson and their other two partners to take a gamble on the Guess Who...
The first Nimbus 9 album release was called A Wild Pair - an album featuring two pop groups, the Staccatos and the Guess Who. Each had a special musical arranger: Allan Macmillan for the Staccatos and Ben McPeek for the Guess Who with Jack Richardson as producer for both bands. This "one-off album" was made exclusively for Coca-Cola Limited by Nimbus 9 Productions, manufactured through RCA. Both groups were still under license from their respective record companies, Capitol and Quality Records, but each company gave permission to Nimbus 9 to record their groups with the idea in mind that any success would be good for their own future releases.
McPeek, Macmillan and Richardson's work on A Wild Pair paid off. Released in 1968, A Wild Pair sold an amazing 85,000 copies in Canada! Unheard of figures in those days for a Canadian album. In fact sales of A Wild Pair turned out to be "the biggest rock music seller ever at that point in Canadian rock history," writes Ritchie Yorke in his book, Axes, Chops and Hot Licks. It was an excellent start for Nimbus 9 whose humble beginnings in Toronto was "a back room in Ben's offices at 131 Hazelton Avenue," said Macmillan.
With the amazing success of A Wild Pair, Nimbus 9 decided to sign the Guess Who to their label. But in order to do that, they offered $1,000 to release the band from their remaining contractual obligations with Quality Records. The record company's executives accepted the offer mainly because of the "insulting lack of faith in the band and an absence of foresight" exclaimed author Einarson. Ben McPeek and Jack Richardson felt there was potential in the Guess Who. "We had a lot of confidence in the group and our own abilities to somehow expose them to the world, " said Richardson in an interview with Ritchie Yorke. "Ben and I had a strange kind of belief that it would turn out alright in the end."
With the band now signed to the Nimbus 9 label, the next plan was to have them fly down and record at A&R in New York. The band would record between September 19-26, 1968 with Ben McPeek as musical director and Jack Richardson as producer. But the venture would be an expensive one with time costs at $150 per hour, the total recording fee ended up being $9,800. The studio time and travel costs forced Jack Richardson to mortgage his home and even that still wasn't quite enough money to pull it off. Ben McPeek also helped out: "If it hadn't been for the money that Ben was getting for his jingles," said Richardson, "we would never have cut the album."
The LP was released in Canada in January 1969 as Wheatfield Soul. McPeek and Richardson's efforts paid off once again as the album "charted for an impressive thirty-three weeks, peaking at #3," writes Einarson. "The American release came in April, where it reached #45 in a nineteen-week Billboard run. It was the lead off the track, the lovingly orchestrated These Eyes that sold the album in the ears of the buying public."
With PR men costing Nimbus 9 at $500 per week in New York, Chicago, Washington, and L.A. to launch These Eyes as the single from the album, "the song reached the top of three American best-seller charts, sold a million copies, and returned about $35,000 in production royalties to Nimbus,*" said author's Alex Barris and Ted Barris.
"The antecedents to that and the 12 yr.-long success story which followed are fairly well-known to music historians in Canada," said Macmillan. He also claims that McPeek "opened lots of doors in the music industry in this country for me...and for many other musicians as well."
Apart from the Guess Who, here is a short list of some of the artists that McPeek helped out, keeping in mind that his repertoire had known no boundaries between "popular" and "serious music:"
| | | |
| --- | --- | --- |
| Musical Artists or Movie Themes | Year | McPeek's Musical Credits |
| The Rowdyman | 1972 | Credited for the musical scores in this highly acclaimed movie starring Gordon Pinsent. |
| Poco | 1973 | Horn arrangements, string arrangements for the pop album Crazy Eyes. |
| Catch the Sun | 1973 | Musical scores for this fast-paced 22-minute film documentary of Ontario life entitled Catch the Sun. The film was distributed by the Imax Corporation. |
| Only God Knows | 1974 | Composed the music for a comedy movie entitled Only God Knows. The film starred Gordon Pinsent and was directed by Peter Pearson. |
| Laurie Bower | 1976 | Arranged and conducted the songs on for Laurie Bower entitled "Got A Feelin' For Love." Released on United Artists. Track listing: The Way I Want To Touch You, Woman, Hey Look At the Sun, Rainy Day People, If You Feel the Same Way, Una Paloma Blanca, 50 Ways To Leave Your Lover, Come to Mother Nature, Do You Know Where You're Going To? (Theme from "Mahogany"), Got A Feelin For Love and Glitter Queen. |
| Bachman-Turner-Overdrive | 1977 | String arrangement for the album Freeways which was BTO's final album. |
| Niagara Symphony Orchestra | 1980 | He composed Piano concerto no. 1. This concerto was done by the Niagara Symphony Orchestra conducted by Leonard Atherton. Monica Gaylord played piano; premiere performance, February 9, 1980, Niagara on the Lake, Ontario. |
He also recorded albums for himself: Ben McPeek, His Voices and His Orchestra (1965, CTL, CTLS-5060), Original Sounds of Ben McPeek (1966, RCA CTLS-1080/Camden CAS-2351), Play Me (1973, RCA KXL-1-0032), Ben McPeek's Latest Fling at the Record Scene (RCA CASX-2537), and Thinking of You (1975, Attic LAT-1008).
McPeek was a guiding force behind the creation of Guild of the Canadian Film Composers (GCFC) that was established in 1979. "The founders believed it was important to encourage all music and production industry groups to work together," says the official GCFC website. "As the GCFC grew, it developed into a strong source for composer support and information as well as an effective communicator with other artist associations, government and industry. A key element in this growth has been a philosophy that encourages composers' support of each other."
Another project he started up but did not live long enough to see its full realization is the Imperial Oil McPeek Pops Library established in November, 20, 1982. The library consists of Canadian popular music for orchestras and is administered by the Canadian Music Center. The library is funded by Imperial Oil. By 1991, the catalogue boasted some 47 selections that included Ca-na-da, Snowbird and Tears Are Not Enough.
Ben McPeek passed away on Wednesday, January 14, 1981 in Toronto. He was beloved husband of Angela Lucchetta and dear father of Benjamin Jr., Jerome and Geoffrey. He was dear son of Ben and Helen McPeek of Trail, B.C. and dear brother of Joseph, Nanaimo, B.C. and Sharon (Mrs. K. MacMillan).
"Ben's untimely death in 1981 was a terrible personal tragedy for a great many people who were his friends, and a sad loss to the music scene in Canada," laments Macmillan. "I have long speculated how Ben, had he lived, might have adapted to the changes in the music business in the last 25 years. He was an early experimenter in sythesized music and on a number of occasions in the early 70s travelled up to the National Research Council labs in Ottawa to try out compositions created for realization on the NRC "Rube Goldberg" prototype computer-cum-patch cords monstrosity."
Upon his passing, the McPeek family immediately started up the Ben McPeek Scholarship Fund and was officially implemented later on in 1983 by the University of Toronto, Faculty of Music. The McPeek Scholarship is awarded to an outstanding student in second or third year of the composition program.
___________________
*Historical Footnote: Over time Nimbus 9 became so successful that it formed a second label called "Umbrella." Once again, Macmillan explains how it came into being: "Nimbus also led the pack with its Direct to Disk recording initiative. Our label was Umbrella. Collectors items now. Some great music came out of that crazy venture...Carol Pope and Kevin Staples' effort (the first and only effort that I ever heard about of a rock band going D to D), Rob McConnell and the Boss Brass, Ruggiero Ricci playing the 24 Paganini Caprices, the Humber Jazz Ensemble, Dr. Boyd Neel's chamber ensemble (name?) and a few other notable efforts. Nervy performances, to say the least! Nervy stuff going on in the control room too!!" [authors note: another example of their "Direct-to-Disc" initiative is an album entitled appropriately enough Canadian Brass Direct to Disc released in 1977 on their Umbrella label.]
- Researched by John Whelan, May 1, 2005.
Bibliography:
Axes, Chop & Hot Licks - The Canadian Rock Music Scene, by Ritchie Yorke. Published M.G. Hurtig Ltd, Publishers, 1971.
Making Music - Profiles from a Century of Canadian Music, by Alex Barris and Ted Barris. Published by Harper Collins Publishers Limited, 2001.
American Woman - The Story of the Guess Who, by John Einarson. Published by Quarry Press Inc., 1995.
Guild of Canadian Film Composers website: http://www.gcfc.ca/index.html
Ben McPeek, by Helen McNamara. Published by the Canadian Encyclopedia website.
Ben McPeek, by Howard P. Knopf. Published by the Canadian Music Centre website.
Ben McPeek, by the Trail Historical Society website.
The Globe and Mail, obituary notices. Published Friday, January 16, 1981.
University of Toronto, Faculty of Music website, "In-Course Scholarships".
The Canadian Brass Official Website and discography, 2005.
Photographs of Nimbus 9 records second location courtesy of Gary Muth.
Four e-mail correspondences from Allan Macmillan to John Whelan all dated April 24, 2005 concerning Ben McPeek and Nimbus 9 records.
Carleton University's "National Capital Freenet" is a non-commercial ISP located in Ottawa, Canada. The information contained on this page are for educational and historical purposes only.

Back to the Expo 67 Main Index Page