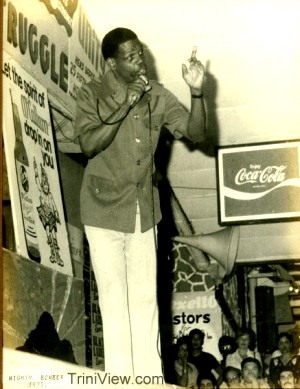 Photo credit: Copyright © TriniView.com
Clifton Ryan, a.k.a. "The Mighty Bomber" circa 1975
Suggested playback media:


Expo 67 as composed and performed by The Mighty Bomber
(running time: 3:44)
The Mighty Bomber - Calypso Pioneer from Laventille

"Bomber (Clifton Ryan: born in 1928 in Grenada and migrated to Trinidad in his youth) still continues to compose new material each year. He writes for many singers in the Caribbean, England and the USA, and carries out workshops teaching children the calypso art form. Many young calypsonians that he nurtured went on to become prominent in the calypso arena. Highly respected within his community for these contributions, Bomber is a past president of the Northwest Laventille Cultural Group. Jean, his wife of many years has supported him throughout his musical career." -- source: Success/Laventille Composite School (SLCS).
Important Link:
More "Mighty Bomber" soundtracks are available at 91.1 fm in New York City: "Kiss of Fire" and "The Motion" plus a plethora of calypso songs by various artists from that same broadcast.
Trinidad & Tobago's Cultural Impact on Toronto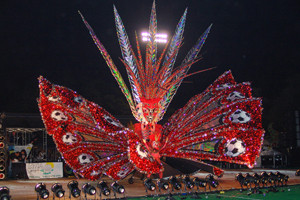 Photo credit: Copyright © Culture.ca

At Expo 67, the 6-month world exposition provided a window of opportunity for Trinidad & Tobago to import their steelbands, calypso music and vibrant culture to Canada. Three artists that performed at Expo 67 were "the Trinidadian steelband and calypsonians Bomber and Young Killer. During this period, Toronto's Caribbean community grew and developed Cariban, a massive Carnivale held every July," writes the Historical Museum of Southern California official website.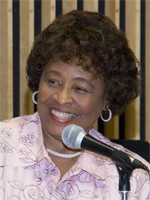 Photo credit:
Copyright © Culture.ca



Inset: Dr. Rita Cox
This fact is also supported by the Canadian Culture.ca website which highlights Expo 67 as being an important stepping stone in the realization of the Cariban...
"The festival began 40 years ago and Dr. Rita Cox clearly remembers it.
"'It was very exciting,' says the celebrated Black Canadian activist. 'Most of us were immigrants doing the planning.' Cox, originally from Trinidad, recalls that the Expo 67 contingent from Trinidad and Tobago came to Toronto to help with the preparations."
As a result, Toronto's first Cariban in 1967 had "eight bands in front of 1,000 spectators. It will grow to become the third largest carnivale in the world, drawing over 1 million spectators annually," writes the Archives of Ontario website.
For an excellent history of Toronto's 1st Caribana, please read: Come Out To Caribana '67
The Tripoli Steel Orchestra
"Tripoli Steel Orchestra, sponsored by Esso, was a top steelband in Trinidad during the 1950s and 1960s. They recorded this album while appearing at Expo 67 in Montreal. In 1968 Tripoli returned to Montreal, where they met popular pianist Liberace. Liberace promptly hired the band for a tour across the U.S." -- source: Calypso: A World Music / Historical Museum of Southern California.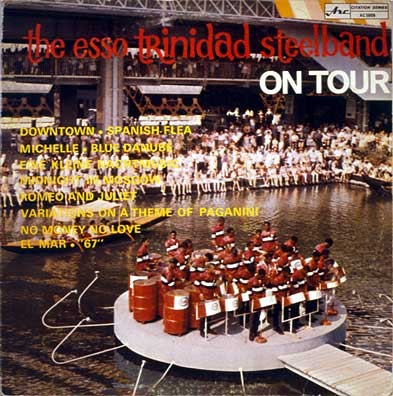 Album cover scan from the Michael Kernahan collection.
Important Link:
"Michael Kernahan A Life in Pan" from Florida's Office of Cultural and Historical Programs which contains additional information about the Tripoli Steel Orchestra plus how pans are made.