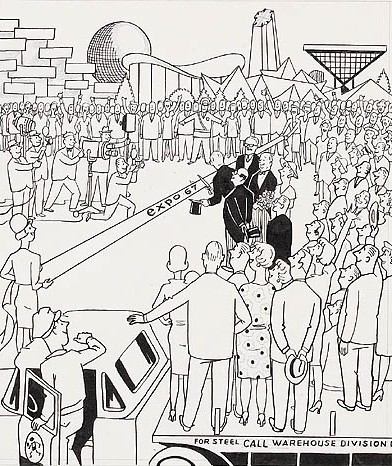 A caricature drawing depicting the ribbon-cutting event at Expo 67 with Lester B. Pearson and Jean Drapeau in attendance. © by the ADF Industries Lourdes Inc., Lachine Québec and Library and Archives Canada, Acc. No. 1988-6-6
Hi, John:
I was just poking around on the internet looking for Expo 67-related items and I came across your wonderful and comprehensive site!
At 48 years old, I am a big world's fair buff, having visited the 1964-65 New York World's Fair, Expo 67, and Hemis Fair 68 with my folks. I have especially fond memories (especially clear, too, considering the fact that I was only 9 years old at the time) of Expo 67. I have revisited the grounds in 1984, 2001, and again this past week. With each visit I cannot help noticing how nature is really taking the place back.
I regret that I never did get to visit the site when it was Man and His World. When I was there in 1984, though, I remember seeing quite a few pavilions still standing but fenced off, prior to demolition. The grounds were in very nice shape. I remember seeing many flowers, a band was playing (in front of the tower left from the Britain pavilion), and people were dancing. When I was there in 2001, we had a nice lunch at the former Jamaica pavilion. As your photos (and mine) attest, the subsequent years have not been kind to that little building.
On this most recent visit, I spent several hours just walking around with an old Expo guidebook in hand. I have no interest in the casino itself, but I gladly checked my hat and camera at the desk so I could go inside the old France pavilion. I also went to a few spots that I'd never before been to. Walking to Place des Nations is downright creepy because it is such a lonely and isolated place. I also walked across the bridge to check out Habitat, taking lots of photos and enjoying it very much. How I would love to get an invitation to visit someone's unit! Still standing nearby Habitat is what I presume to be the Expo art museum, which appeared to be vacant.
What probably amazes me the most is what is the same and what is different. How some very major changes have been made, while relatively minor things remain. As a pedestrian, I couldn't really find a good way to see it well, but I guess for the Olympics, so much of Île Notre-Dame was dug up and reshaped for aquatic sports. Very large-scale excavation. Yet, so many of the signature outdoor lighting fixtures remain on the island, beat up and discolored. And the tower at the former Korea pavilion, surprisingly, is still standing. Tunisia is a park office but still vaguely recognizable. I wonder if there are any plans afoot for developing the Expo site further. It really is a unique and impressive location. It's a shame to see it underutilized. I don't imagine I'll be back to visit it again unless it morphs into something else completely.
I can't really explain my fascination with world's fairs, but I just spent a pleasant couple of hours looking at your web site. Thanks a lot.
All the best,

Brian Pendley
Holmes, NY
June 3, 2006
---------------------------------------------------------------------
Dear John,

A wonderful expansion of an already captivating site. The additional photos of some of the national pavilions is marvellous. Takes one right back to the magical moments. To use today's vernacular, "awesome".

All the best.

Robert H.C. Barrett, B.A. (Hons.), LL.B.
Barrister & Solicitor
The White House
Waterdown ON
September 24, 2006
---------------------------------------------------------------------
Hello John;

My name is Gary Gadouas, and I'm 58 years old. I live in a small town in Vermont, just 5 miles from the Canadian border, and about 65 miles from Montreal.

In the summer of '67, I was just 18 years old, but with an insatiable thirst for knowledge about 'other places'. It was a dream come true when Expo '67 came to Montreal. I obtained a Season Passport, and was there on the 2nd day it was opened. I managed to go 9 more times before the close. I was in such awe of everything I was seeing and experiencing. I can still see, hear and smell EXPO! It was a wonderful time to be a young man, especially with all those beautiful hostesses from around the world. I have so many fond memories of those times.

Your site is fantastic!! Thank you for taking the time to put it together. Great job!!

I'm hoping someone will perfect 'time travel' before my time runs out. I know the first place I want to go back to. It was an age of innocence; a better time than we live in now.

Thanks again............

Gary Gadouas
Swanton, Vermont, USA
October 19, 2006
---------------------------------------------------------------------
Hello from Brisbane, Australia.

Quite by surprise, I just stumbled onto your [Expo '67] website and enjoyed my visit enormously. Looking over the site a rush of wonderful memories filled my mind.

I was a 12-year old kid from Saint John [NB] who made the provincial little league baseball team which played at Expo.

Nearly forty years ago the visit left an indelible experience which would ultimately help shape the future of my life.

Thank you for your important contribution.

Patrick McCarthy
November 21, 2006
---------------------------------------------------------------------
Dear John,
Thanks for putting together this wonderful website.

My father, Keith, was the Commissioner of the Sermons From Science pavilion at Expo 67, and was privileged to run that pavilion under a successor name during Man and His World (well into the 1970s). I have too many memories to mention here, but since I visited the site during both night and day a couple of hundred times, some memories stand out.

As an 10 year old, I remember sneaking into the projection room at the pavilion and starting one of the movies in the auditorium because I thought the regular projectionist was being too slow. Although I was scolded for this, it went off without a hitch.

I remember standing on the concrete floor of the old pavilion just after it had been demolished to make way for the rowing course for the 1976 Montreal Olympics. My dad and I shed some tears that day as we visited.

I remember seeing the fire that destroyed the former US pavilion in the mid-1970s, and visiting that site soon after. My heart sunk then as well. I went back with my son about 5 years ago, and saw how the biosphere has been transformed, even though its outer coating was destroyed so many years ago.

Thanks for the memories.

Mark Price
Victoria, BC
February 1, 2007
---------------------------------------------------------------------
Hi,

I just purchased the great CBC documentary on Expo 67... I have great memories of the event as I was 8 years old when I visited Expo, as a member of the Netherlands Folklore Group. Our group based in Toronto was invited to dance for the Queen of the Netherlands who visited expo, and officially opened the Netherlands Pavilion.

I thought you would enjoy a picture of our children's group taken at Expo the day of the performance.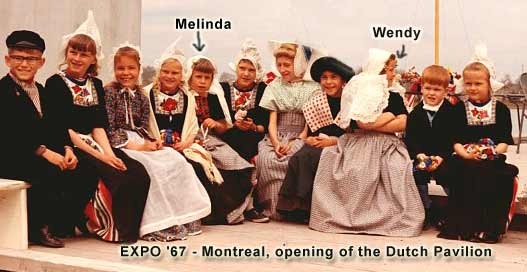 To view the large un-doctored photograph that Wendy also sent to us, please click on the above image.
I have attached 2 the same pictures, only as you can see, I have pointed out myself, Wendy, and my sister Melinda..

enjoy... I sure have ! enjoyable and great memories of Canada's finest moment !

Wendy Limbertie
Toronto, Ontario
March 13, 2007
---------------------------------------------------------------------
PRICELESS EXPO 67 MEMORIES

Hi,

What an incredible Expo 67 website you created.

I was an eight-year-old kid living in Montreal during that special Expo year, and my cousin, Steve Schmidt, and I each had a season's pass.

We learned so much about this planet and what a world-class celebration is all about. We even hopped aboard city buses with our fishing rods in tow so we could cast in the canals between the pavilions.

Over the years I've made the trek back to visit relatives in Montreal and to see what was left of this marvel. I have some great pictures of what seemed like Expo 67 abandonment in the early 1980s.

Last year I visited my son in Montreal and took the subway to see the casino (the old France pavilion at Expo) and was amazed by how much the overall site had changed. It's starting to look like a forest. To see the biosphere again was like meeting an old friend (a bit battered, but still a giant in its own right).

When I return, I plan to treat my wife to a special dinner at the regal Helene de Champlain restaurant (which I never really noticed when I was a kid rushing between the pavilions and the cool Gyrotron ride at La Ronde where I once rode Ricky the Elephant and first saw a fast and noisy blue and white invention called the hovercraft).

I remember standing at the top of the brassy Y-shaped Canada pavilion and being able to see for miles. I remember the mini-rail taking us around the Ontario pavilion and the Expo Express dropping us off at a huge yellow-striped station. I recall being inside the German pavilion with my German grandparents who arrived in Montreal by boat in the 1950s. They were so proud to share this tented symbol of their former homeland with us (but I was too young to drink beer).

I was there when the last spectacular Expo 67 fireworks marked the exhibition's final teary-eyed goodbye.

I enjoy collecting Expo 67 items from e-bay (not mugs and plates, but coins, pavilion brochures, Expo maps and guidebooks) and clicking on websites like yours to relive the sights and sounds of Expo 67. I recently discovered the existence of the Expo 67 Labyrinthe pavilion (the precursor to Imax film technology…with Eldon Rathburn's creative musical touch) and rented the soundtrack record from Simon Fraser University. It was interesting. It's also good to know the impressive Russian pavilion was moved to its homeland, reconstructed and continues to serve as a valuable facility.

I can't believe 40 years has passed since I first stepped onto the grounds of Expo 67. What an experience. What a show.

The memories are priceless.

Rick Rake
Editor, Abbotsford News
British Columbia
April 14, 2007
---------------------------------------------------------------------
Hello John,

This is an excellent site. As soon as I saw the pictures of the pavilions, I was transported back to when I was an 11 year old with an expo 67 passport in hand (I still have the passport buried somewhere in our basement). I explored every inch of the islands. It was a magical time.

My mother had just died that year and I think Expo helped in my grief. I am glad to have found your site.

Regards,
Kevin Seguin
(now residing in) Philadelphia, PA
April 15, 2007
---------------------------------------------------------------------
Dear John,

I have done a little research on one special picture that I kept from my Dad's collection.

He had the pleasure of trying out a very special automobile that was apparently made for the Expo 67 event.

I have put in some pictures and explanations that may help you learn a bit more about the 67X car.

I can only hope it can be helpful for your site, for your site seems to be the only one that is very much complete about Expo 67 in all.

I have visited a few sites, and to be sincere, I chose yours in hoping that people could learn a bit more.

Hoping this helps out for your site, and thank you for taking the time to read me.

Note: The reason why I am sharing this with you is that this year marks the 10th year that my father had passed away, and I wanted to share an important moment that he had lived, as in trying out that very special 67X car.

Thank you and have a good day.

Joan Miller
Québec City (Québec)
May 1, 2007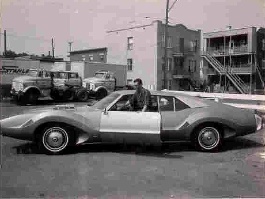 André Miller tries out the Expo 67X Tornado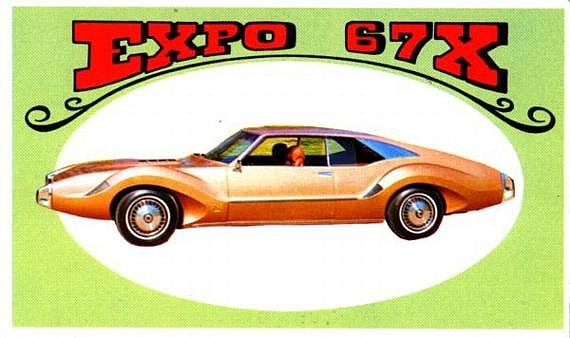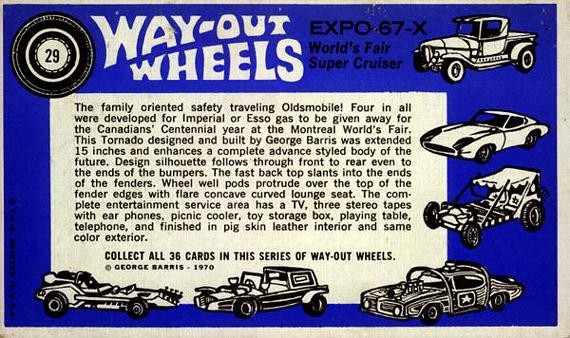 Who recalls that 'Esso' Toronado?
by Nigel Matthews, The Province
Published: Friday, June 06, 2008

To celebrate Canada's centenary at Expo 67, Imperial Oil Canada (Esso) commissioned four custom-built 1967 Oldsmobile Toronados from George Barris of Hollywood.

Imperial Oil wanted a car that looked futuristic but retained an identity of the times.

These cars were called the Toronado 67X, or sometimes Esso 67X and were given away as prizes in a coast-to-coast competition that focused on safety. Entrants had to collect five winning safety tips in order to enter their name into the lottery for the grand prizes.

The first winner was a Mr. Hockett of Edmonton, who picked up his five winning tips on a journey from Vancouver to Edmonton during a family vacation. The second car was won by Vernon Scales of Okanagan Landing. The B.C. winners' Toronado then crossed the Pacific Highway border crossing in June 1967. Duty and taxes amounting to $5,538 were paid on a declared value of $17,526. In less than a year the B.C. car was acquired by the Bellingham Lumber Company. To build these custom cars, Barris had began with new Oldsmobile Toronados purchased at a cost of $4,674.

The Toronado was the first front- wheel-drive American car built since the 1937 Cord. Since the body was going to be lengthened by 38 centimetres, a front-wheel-drive car would reduce the mechanical fabrication. The added length provided a spacious interior that included swivel front seats that could face the rear wrap-around lounge seat. The extended front and rear bumpers gave the car a pointed look. The oversize raised wheel wells added a certain futuristic allure.

Longtime North Shore residents might remember one of the cars of the four was on display in Frank Baker's "Attic Restaurant" at the foot of Taylor Way and Marine Drive in West Vancouver from the 1970s up until 1982.

Nigel Matthews is the manager of specialty vehicles (vintage and collector cars) for the Insurance Corporation of B.C.

ICBC's Collector car program assists enthusiasts in the licensing and insurance of antique and collector vehicles. Learn about the program by typing "collector car" in the search box at www.icbc.com, or call 604-661-2201


© The Vancouver Province 2008

---------------------------------------------------------------------

Dear Mr. Whelan,

THANK YOU so much for assembling all of these very valuable resources under one web site! I haven't yet gone through the whole thing but I am very appreciative of all the work that you and your colleagues put in.

I am a very proud Canadian living in the United States; I was 7 years old the summer of Expo 67 and although I don't remember everything, the pictures and stories presented on your website have brought back many happy memories for me.

I have only one suggestion - please please please publish this work in a book that people can buy! I am SURE that it would be a best-seller!

Sincerely,

Lise Kojima
Champlin, MN, 55316
May 6, 2007

---------------------------------------------------------------------

Dear John,

I may have the most unique memories of Expo 67.

I was visiting the fair with two college girlfriends and we planned to see everything in 5 days. Of course, we were always on the hunt for souvenirs to bring back to Michigan. While walking to the British Pavilion, my friends and I stopped two young men and asked them to take our picture, so that all three of us were together. They, in turn, asked if they could join us in line and they spent the reminder of the day with us. The five of us met at the fair two more days and I invited the young men to visit us in Michigan. They were from Florida. We corresponded, they came to Michigan in December of '67 and one of them, Gene, asked me to marry him. Of course, I said yes. This December Gene and I (along with our two daughter, one son-in-law and two grandchildren) will celebrate our 39th wedding anniversary.

Needless to say, Expo 67 was the best world's fair ever and my "souvenir" has had a profound impact on my life.

A toast to Montreal and Expo 67.

Ewa Harling
Bloomfield Hills, Michigan
May 10, 2007

---------------------------------------------------------------------

Hi, John:

I was a college student in l967 visiting my French pen-pal who had moved to Montreal with her husband and infant son. My parents and I had come up from New Jersey so that I could be the godmother at her son's christening.

We had only one day to visit Expo 67 - so certainly we saw only a very small fraction of what it had to offer. I remember being amazed by La Ronde and also Habitat. Most of what I remember was riding on the monorail around the grounds to get as much of a view as we could in our short time.

Being from New Jersey, I had also gone to the World's Fair in Flushing Meadows in l964 and l965 - one of my most wonderful memories from that Fair was celebrating my 16th birthday during the day at the Fair and then crossing over the bridge to Shea Stadium for a twilight double header!!! What a day - something my son envies, and my daughter could never understand - why I would want to go to a baseball game (or two) for my sweet sixteen!!

I was on a site looking at that fair, when I found a link for your most awesome site on Expo - I can now see everything I missed and more!! And to see that info on Habitat, well, that was an added bonus.

Thank you for all your hard work and precious time in putting together this most wonderful site.

Gail Beebe
Formerly of New Jersey
now in Findlay OH
June 10, 2007

---------------------------------------------------------------------

Dear John;

Thank you so much for your wonderful expo67 site. I was just nine years old when I got to go to Expo with my parents, uncle and brother and sisters.

Although I was only there for one day (my parents and uncle went back the second day without us kids RATS) I have many wonderful memories.

The first memory is of my younger sister being afraid to get on the hovercraft. She soon got over her fear and enjoyed the ride although I do not think she remembers much of Expo. She was only three years old.

I also remember my mom and my uncle loving that Mexican Pavilion the food and the music. My uncle fell in love with Herb Albert and the Tijuana brass because of the Mexican Pavilion.

I can remember going through the Iran Pavilion and my mom was so impressed with the carpets.

I remembered a plane hanging down from the ceiling in the Russian Pavilion and going through your website I found a picture of it (once again thanks for the memory.)

We rode the monorail through the American Pavilion and I remember seeing all the space displays (I am now a big fan of Apollo missions and read anything I can on those missions).

At La Ronde I remember the Ferris wheel. I remember the seats were round and it had an umbrella over them but the thing I remember most is the disc that was in the middle that you could spin. My uncle never let go of the disc he kept us spinning round and round.

We took very few pictures at Expo and I have no idea where they are now .For years all I had was memories but now thanks to your website I also have pictures.

Keep up the good work. Your website is on my favorites and I will keep coming back to it often.

Sincerely

Ruth Usvaltas
Aylmer, Ontario
August 13, 2007

---------------------------------------------------------------------

Dear Mr. Whelan:

This is an incredible website about an incredible event. I was 15 years old in 1967 and so desperately wanted to visit Expo 67. My parents simply could not afford a trip from the San Francisco area to Montreal so I had to satisfy myself with media accounts. I was lucky enough to stumble upon a copy of the Official Guide at a local independent bookstore in April of 1967 and that really got my curiosity going.

My best friend's father was an interior designer and gave me stacks of trade publications that had detailed coverage about Expo. I ran across one the other day while cleaning out my den as I wrap up a major remodel of my house. It was a lengthy article in the June 1967 issue of Interiors magazine by Editor Olga Gueft. It contains 43 pages of black and white photos, many if them interior shots, of the major pavilions and some lesser buildings. Several restaurants and Habitat apartment units are included. What I noticed in re-reading the article after many years is Gueft really captured the importance of Expo and the urgency of anybody in the fields of architecture, city planning, interior design, industrial design, landscape architecture, etc. to see it at any cost.

What amazes me while looking over the article and photos published on your website is how anachronistic all the mid-60s era clothing and automobiles look against the backdrop of the Expo site and buildings. It almost looks as if people from a past era have somehow ended up in a futuristic setting.

I have worked for a major US airline for the past 30 years so had the opportunity to see Expo 92, Expo 98 and Expo 2000. While these were certainly interesting events with some good architecture and design, none can even come close to the accomplishments of Expo 67. I suppose the end of the "cold war" and the resulting end of the US/Soviet rivalry was partially responsible for this. Had it not been for this rivalry, I doubt we would have seen those great pavilions of both "superpowers" at Brussels, Montreal and Osaka. As I'm sure you are aware, the US didn't even participate in Expo 2000 and Russia had a small exhibit hidden away in one of the many vast halls that housed several smaller nations.

Thanks for your hard work in keeping the memory of this seminal event alive.

Randy Lopes
Long Beach, California
October 2, 2007

---------------------------------------------------------------------

Greetings to you, Mr. Whelan,

Last night I was watching with my wife one of the later episodes of the first Battlestar Galactica series (1978) and there was a place
where some characters had to go back to an old abandoned city. When the first building images came on the screen, I thought, "Wait a minute.....that looks like the British Pavilion!" And in another scene, "Wait a minute....that looks like the American Pavilion!" The geodesic dome construction was unmistakable. I also noticed the remains of the very long escalator I myself used to get to the next level of the pavilion. At the time our family was living in western Colorado and my parents took us to Montreal to see Expo '67. It was a momentous trip that I shall not forget it and it will remain a lifelong memory. Unfortunately my Kodak Instamatic pictures of it disappeared in a house fire in 2005, so I cannot reminisce with them, but I do have my memory of it with your website help! Thank you for having a place for us attendees to visit and think back.

Yours, John Pitman
Rockville, MD
November 14, 2009

Expo 67 editorial: Photographs from the Battlestar Galactica television series can be viewed at Bill Cotter's website.

---------------------------------------------------------------------

Hi John,

I was 16 in 1967 and my aunt lived in Pointe Claire, I went to Montreal for a week with my cousin. We stayed with my aunt. My mother bought me my ticket to fly up, it cost her $47.00 return.

We went to Expo 3 days in a row, the last day we spent the entire day at La Ronde. My father's birthday was that week, and I called him from a pay phone in the Australia building.

There was so much to see and do, it was such a thrill just to be able to say "I was THERE".

Everyone was so friendly and made us feel at home. The buildings and exhibits were amazing feats of architecture, truly ahead of the times.

This website is a great way to bring back memories of that wonderous year - 1967!

Thanks for letting me share my story,

Susan Preston
Saint John, N.B.
October 12, 2010

---------------------------------------------------------------------

I just saw your site for the very first time today, as I was looking for photographs of the U.S.S.R. Pavilion. The reason being my memory had been jogged by a meeting with a new friend at the park yesterday. She asked me if I had any fond childhood memories, and I told her, and now you, that, as a child I won the first prize in the children's art contest of the Soviet Pavilion at Expo 67. I was 11 years old and went to Expo just about every day with my brother Chris, as my mother had bought us season passports. We were avid badge and pin collectors and, as anyone who collects these, will surely know that the badges from Soviet Russia were the finest to be had from any pavilion. What a plethora of them too! They had beautiful enamel badges commemorating ust about everything that had happened in the U.S.S.R. in it's first 50 years. So we went there every visit to Expo. Back to my story; we had seen a notice of the art contest for children, and so I did a drawing of the Soviet Pavilion from an angle showing the front and side of the building. We went to the auditorium in the pavilion later on in the evening to hear the results. I kind of had an inkling that I would win because my drawing was up on a board on the stage with the others, and not to sound too egotistical, I think mine was the best. So a man came up to the microphone,and said something in Russian that sounded like; " Boyski, Brattski, Borshnetski , Jeremy Coyle!" I couldn't understand Russian but I knew my name and went up on the stage. Oh boy did they ever give me a lot of presents, dolls with traditional Russian costumes, slides of Russia and tons of the badges that we so highly prized . The presents filled two shopping bags full. They gave me so many presents that at the end, when one of the pavilion ladies came out with the biggest box of chocolates I had ever seen, she presented it to me and I went to grab the whole box! She pulled it away from me and said, "Nyet !'' smiling and holding up her finger to indicate take just one. The crowd in the auditorium howled with laughter at this awkward moment. ( it should have been the start of my comedy career) I must add finally that the men and ladies that worked at the Soviet pavilion were the most friendly and warm human beings, that I found of all the pavilions. Wherever they are, I thank them for making my Expo 67 summer so great.

Jeremy Coyle,
Victoria, B.C.
August 29, 2011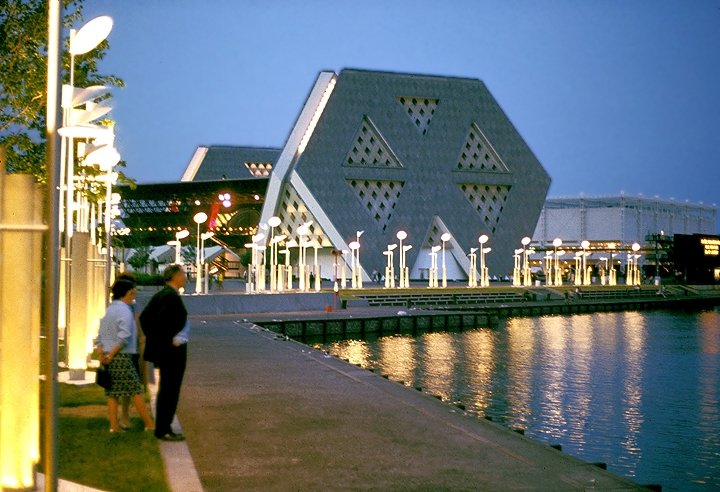 Image from WorldsFairPhotos.com, the Bill Cotter collection with our sincere thanks.