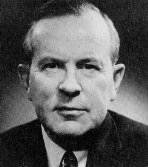 The Right Honourable
Lester Bowles Pearson
Remarks at the Opening of Expo 67
Montréal - April 27, 1967
This is a proud day for Montréal, for Québec and above all for Canada.
The heading of an article about Expo in a recent issue of an American magazine referred to it as, "The Big Blast Up North". Certainly Expo is going to be that - and much more. Behind this big Canadian birthday "blast" are achievements in planning, organization and construction that are little short of miraculous.
The men behind these achievements should be proud and happy. We should be grateful to them, as we recall the skeptics who once said Expo 67 was too big a project for Montréal, Québec or Canada to accomplish in less than four years. But it was done - and well done.
We are witnesses today to the fulfillment of one of the most daring acts of faith in Canadian enterprise and ability ever undertaken. That faith was not misplaced. But Expo is much more than a great Canadian achievement of design and planning and construction. It is also a monument to Man. It tells the exciting and inspiring story of a world that belongs not to any one nation but to every nation.
No theme could have been more fitting for our times than "Man and His World". Here in Expo we have one of the most impressive collections of Man's works and Man's ideas ever brought together.
Today we pay our tribute to the dedication and the effort of many men and women that have made all this possible. Montréal has proven its capacity to carry through such an undertaking and its Mayor has shown the inspired and dynamic leadership which was essential.
So have the people of Canada as a whole, through the co-operation of the three levels of government that was required.
We acknowledge also the tireless and effective work of the staff of Expo, all of whom, beginning with the Commissioner-General, I would like to thank very sincerely.
It is also a truly international effort - made possible by many men from many countries.
The scope of international support for the Expo theme, as shown by the record-breaking participation, is a wonderfully encouraging display of Man's faith in himself and his world; in his capacity to improve and progress; in his power to cope with the challenges of his world and himself. In all the wonders of Man which we now have on display at Expo, we can see in inspiring actuality how much every nation has to gain from co-operation and how much to lose in conflict.
I am sure all Canadians will share with me the hope that the lasting impact of Expo will be in the dramatic object lesson we see before our own eyes today: that the genius of Man knows no national boundaries but is universal.
If that hope is fulfilled, then Canada's sponsorship of such a dramatic display of the global fraternity of aspiration and achievement within the great diversity of nations may become an important contribution to this era.
Our own country's existence has always depended upon achieving unity of human purpose within the diversity of our linguistic cultural and social backgrounds.
Expo 67 offers perhaps the most striking proof ever assembled in one place that the future well-being of the whole world community of man also depends on achieving the unity of peace within the vast diversity of national policies.
By the time the gates of Expo are closed six months from now, its success will have made all Canadians prouder of our own country than ever before; and more conscious of the interdependence and the brotherhood of all men and all nations.
See also: 'The Fathers...Built A Strong Foundation' - Statement of Prime Minister Lester B. Pearson, July 3, 1967