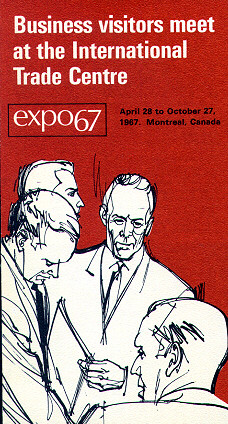 As many thousands of businessmen are visiting Expo 67, a separate pavilion has been built for their exclusive use on Cité du Havre, close to the main entrance gates at Place d'Accueil. The Expo-Express provides fast transport from all other sectors within the exhibition site.

The pavilion, called the International Trade Centre, is sponsored by the Canadian Bankers' Association. Its two floors house a bank concourse, Business Development Bureau and Expo-Club. In the bank concourse, professional counsellors from the commercial and industrial development departments of all the Canadian chartered banks are in attendance to inform business visitors of the many trade and industrial promotional services the banks can offer.

The Business Development Bureau's basic purpose is to give all visiting businessmen an opportunity to strengthen their trade links with Canada and with all other participating nations. They will receive advice on trade opportunities and industrial development prospects in Canada from federal and provincial government representatives, who are resident in the Bureau for the entire Expo period.

Visiting businessmen who would like to avail themselves of the extensive facilities of the Business Development Bureau should contact Business Promotion Division, International Trade Centre, Expo 67. (Telephone: 397-6744).

FACILITIES AT EXPO-CLUB

One wing of the International Trade Centre is occupied by Expo-Club, a private club where businessmen from all over the world can meet and talk on a friendly, relaxed basis. Expo-Club includes a dining room with a seating capacity for nearly 150 people, a lounge, bar and a café on the terrace overlooking the St. Lawrence River. Membership is not open to the general public but only to representatives of Canadian companies and corporations and businessmen.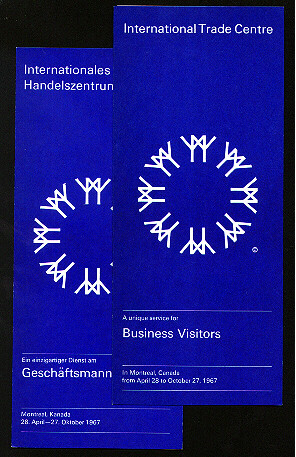 Foreign businessmen, who have been duly introduced, will be granted honorary membership in Expo-Club for the duration of the their stay.
For further information, those who qualify for membership are asked to contact Expo-Club, International Trade Centre, Expo 67. (Telephone: 397-6744).
PROGRAM FOR EXECUTIVES
As a further means of bringing together Canadian and foreign business executives with mutual interests, the Business Development Bureau is also planning a series of fourteen business lectures given by prominent figures in business and public affairs from around the world. These lectures, known as Maclean-Hunter International Forum in honor of the sponsor, Maclean-Hunter Publishing Co. Ltd., are being held in the DuPont of Canada Auditorium to invited audiences of business executives from Canada and abroad who may wish to attend.
N.B. -- The International Trade Centre, because of its specialized nature, is not open to the general public.
Insets: "Business Visitors Meet at the International Trade Centre expo 67" and "International Trade Centre. A unique service for Business Visitors In Montreal, Canada from April 28 to October 27, 1967" are © by the Centre d'histoire de Montréal.