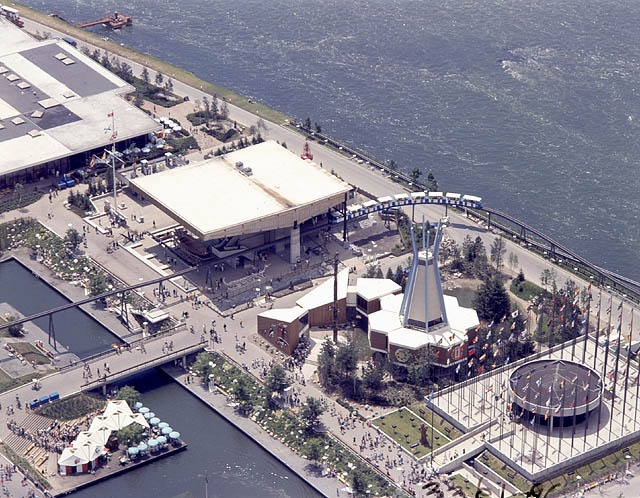 Photo credit: © National Archives of Canada
Pavilion of the United Nations (lower right in photo)
On Ile Notre-Dame, near the Expo-Express station, the United Nations flag together with the 122 flags of member nations proclaim the Pavilion on the United Nations, circular in form and built of concrete, steel and glass.

Inside the pavilion is a 330-seat theatre where outstanding films, including the Academy Award winning "To Be Alive", are shown. Overlooking a courtyard is the first-class Restaurant of All Nations with a menu as exciting and diverse as its name implies.

Exhibits in the circular exhibits hall feature the United Nations charter and the work of United Nations agencies throughout the world.

Letters and cards can be mailed at the pavilion where special U.N. Expo stamps may be obtained. The issuance by an agency other than the Canadian Government of stamps valid for postage in Canada is unprecedented.

The pavilion is under the auspices of World Federation of United Nations Associations (WFUNA). It is sponsored by 13 Canadian companies.

Click here to see a model to scale of the United Nations Pavilion.
1/7