Facing the Engineers' Plaza on the Ile Notre-Dame, the highly original Pavilion of Monaco consists of several interlocking towers surrounding a garden-cinema on the banks of a canal, in a setting of flowers, trees and exotic plants.

The moment he enters the pavilion, the visitor senses the typical atmosphere of Monaco as he is taken on a tour of the charming Mediterranean Principality. Crossing the various sections of the exhibit, which are mostly in the open air, the visitor has the impression of strolling down the narrow streets of Monaco and Monte Carlo, becoming acquainted with the historical heritage, the scientific achievements, the cultural and social activities, the sporting events, as well as the everyday life of this small dream-like country. This pleasantly descending walk brings him to an unforgettable movie show which will be the main attraction of his visit.

Emerging into a delightful garden, which is also a theater covered by a large light-filtering parasol, the visitor may then enjoy the fifteen-minute movie which will complete in color, sound and movement the wondrous image of the Principality of Monaco and its "joie de vivre".

Returning to the Engineers' Plaza, visitors cross a small park area the layout and vegetation of which recall Monaco's celebrated Jardin Exotique.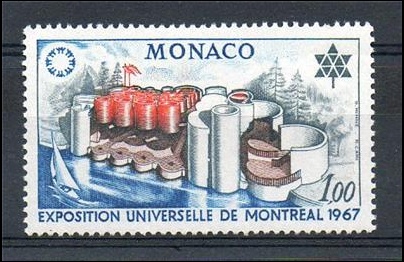 A lovely commemorative stamp embracing the universal world exposition in Montréal.
Click here to see a model to scale of the Monaco Pavilion.
Click here to see a map of the Monaco floor plan.