Dazzling color pictures virtually spring to life on water at the Kodak Pavilion. Butterflies take flight, fireworks explode in mid-air, fish swim, and go-go dancers go-go. The show gives a new dimension to life's happiest and proudest moments.

It's part of a multi-screen eight-minute slide show, entitled "The Wonder of Photography" - a fun program that explores with the viewer the ways in which photography serves man. There's a presentation every ten minutes in the Pavilion Theatre - less than a two-minute walk from the Expo-Express station on Ile Notre-Dame.

Expo 67, with its fascinating pavilions and unique sights, offers camera fans a rare opportunity for pictures. And Canadian Kodak specialists at the pavilion's Photo Information Centre are on hand to assist you.

A special exhibit area takes you behind the scenes and reveals in color the dramatic role of photography in our daily lives. You can see Canada from the air, too. Twenty-four color photographs, taken from a low-flying helicopter, dynamically illustrate the country.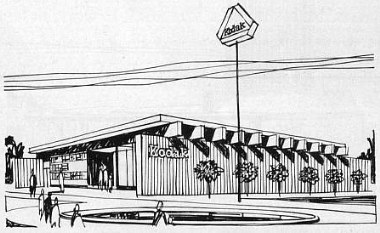 Retro photograph: click here for the Kodak Pavilion, New York World's Fair, circa 1964.