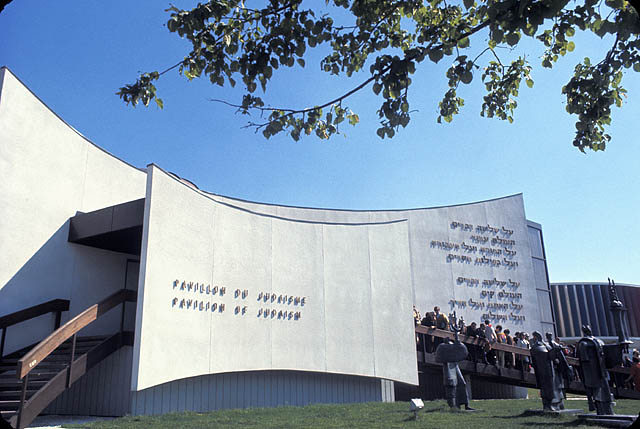 Photo credit: © National Archives of Canada
The Pavilion of Judaism
The Pavilion of Judaism overlooking the Seaway on Ile Notre-Dame faces the Pavilions of Thailand and Burma. It is within walking distance of Métro Sainte-Hélène and the Expo-Express Station on Ile Notre-Dame. The main objective of the Pavilion of Judaism is to present Judaism as a world faith and culture maintained from ancient times by Jewish people all over the world and the present-day implication of its fundamental ideals to mankind.

A series of continuous thematically staged and artistically designed exhibits of monumental works of Jewish thought and creativity reflect the theme Man and his World in the light of Judaism. Special program features include appearances of distinguished personalities, literary and artistic presentations, as well as film showings and changeable thematic exhibits on Judaica. Of special attraction is the display of the magnificent model of the Temple of Jerusalem.

The Procession, a sculpture in bronze of a group of life-size figures carrying the Torah, stands at the entrance.

A sculpture garden of Arts Canadiana forms the background of the pavilion, which is a contribution of Jewish communities in Canada to Expo 67.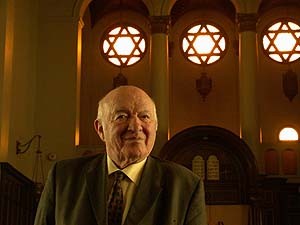 Photo credit: © Bram Eisenthal
Rabbi Wilfred Shuchat
The following excerpt appeared in the Canadian Jewish News, dated April 21, 2006:
A highlight of his six decades that came immediately to Rabbi Shuchat's mind was the Judaism Pavilion at Expo 67, which he conceived. It was financed by Shaar member Sam Steinberg, the supermarket magnate.

"It was not only an exhibit; we conducted a service every day there and had other live programming. It drew three million visitors, of all faiths, including Cardinal [Paul-Emile] Léger and other leading clergy," Rabbi Shuchat said.
1/2