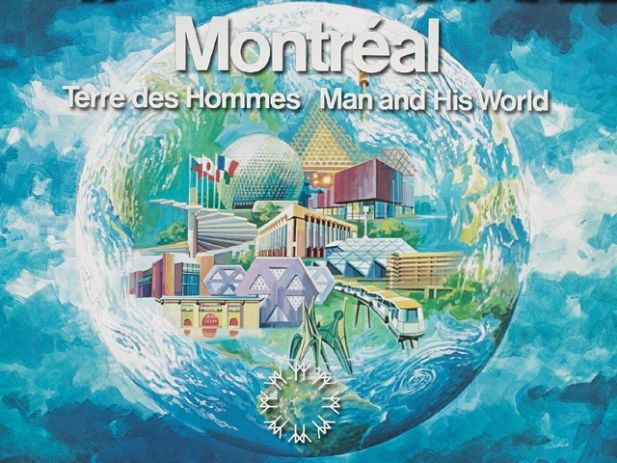 Photo credit: © National Archives of Canada
Expo 67 Facts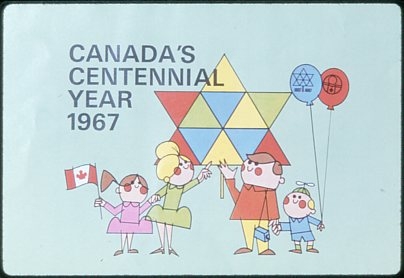 © Spring 1967 issue of Canadian Kodak Movie News
The first public announcement that Canada would pursue the idea of hosting a World Exposition was made by Conservative Senator Mark Drouin during Canada Day at the Brussels Universal and International Exhibition of 1958. Pierre Sévigny, a Conservative Member of Parliament, was initially slated to make the announcement in Brussels but fell ill in Paris and therefore gave Drouin the speech to deliver.
When Drouin did the presentation he added that it would be a wonderful opportunity to have the World Ex

position

to coincide with Canada's 100th Anniversary of Confederation. "Radio-Canada picked up his speech and it was heard in Canada where it did NOT fall on deaf ears," said Yves Jasmin* in a correspondence to this web site proprietor. Yves went on to say that Drouin's suggestion "would be repeated at the Senate or the House of Commons."
While Drouin was the first political figure to announce it, the genesis of Canada hosting a World Exposition does not belong to him. "But the initial merit goes back to Louis-Alphonse Barthe, a publicist who ran small fairs and exhibitions in rural Quebec," writes Yves Jasmin in his book La Petite Histoire d'Expo 67. "He had an idea and spoke to his sister Marcelle who was then a well-known newscaster at the French network of the CBC, Radio-Canada. She suggested that he speak to Pierre Sévigny, newly elected in the Diefenbaker conservative government and responsible for the party's presence in the province of Quebec."
The City of Toronto was initially offered to host the World Ex

position

but rejected the idea, leaving then Montréal Mayor Sarto Fournier to campaign for it.
An application by the Canadian government was submitted to the International Exhibitions Bureau in Paris -- but it was up against competition: Moscow was about to celebrate its 50th anniversary in 1967. Since no two expositions can be held during the same year, Moscow won over Canada.
Within two years, Moscow had a change of heart due to the enormous costs of building an Expo. A new Mayor for Montréal emerged by the name of Jean Drapeau who was determined to make the dream a reality, and so on November 13, 1962, the Canadian government put in another application and this time won!

Expo 67 was the Western Hemisphere's first exhibition in the first-category (defined officially as one at which various countries construct their own pavilions and which "constitutes a living testimony to the contemporary epoch").
April 27, 1967: Official Opening Ceremonies for VIP's and media only, 7,000 in attendance. This included all of the 10 Provincial Premiers. Media coverage on this day: 1,000 reporters with an anticipated 700 million viewers and listeners tuning in.
April 28 - October 29: Expo 67 is open to the general public.
Expo 67 theme: "Man and His World."
Area: Île Sainte-Hélène, a park on an island in the St. Lawrence was enlarged while Îl Notré-Dame was a man-made. Other Expo themes and pavilions were located on the Cité du Havre.
Cost: $1,000,000,000.
Attendance: 50,306,648 (second only to Paris France which had 50,860, 801 visitors in 1900).
Attendance by planned school trips: 935,631 school children attended. 50,000 of them came from the Ottawa area.
Admission: adults: $2.50 day, $12 week, $35 season. Children: $1.25 day, $6 week, $17.50 season.
Hours of Operation: 9:30 AM - 10:00 PM, La Ronde: 9:30 AM - 2:30 AM.
Accommodations: motels, hotels and peoples' homes, arranged by Logexpo ($10-$40 a day).
Participating Nations: 62.
Over 5,000 different movies were shown in various Expo pavilions. In a May 5, 1967, edition of Time Magazine noted that "a cinema addict could spend every minute of Expo's 183 days at a screen and still not see every frame available."
According the Library and Archives of Canada official Expo 67 website, "Expo 67 hosted the first international congress on transportation research. Many of the participants felt that Expo should be the model to emulate in the future when planning public transportation."
Star Attractions: Sir Laurence Olivier, Maurice Chevalier and Marlene Dietrich.
Media Assessment of Expo 67: The Montréal Star described Expo 67 as "the most staggering Canadian achievement since this vast land was finally linked by transcontinental railway."
The Royal Bank of Canada wrote in their January 1967 newsletter: "For Canada, this marks a point where the nation's maturity is recognized by her own people and by the rest of the world. It is an instrument of national consciousness, and a contribution to man's unity."
* Yves Jasmin was Director of Information, Publicity and Public Relations for Expo 67.