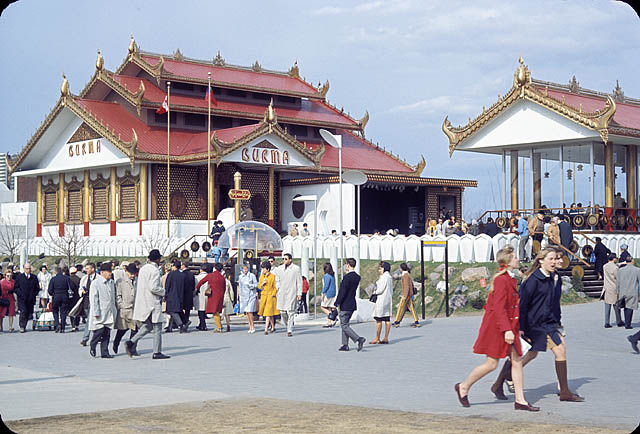 Photo credit: © National Archives of Canada
Pavilion of Burma
The Pavilion of Burma on Ile Notre-Dame has a convenient connection by Minirail.
It represents Burma's most spectacular participation in any exhibition, and as its approach to Man and his World, Burma has chosen the theme of Man and Friendship. Burma hopes by taking part in Expo 67 both to gain friends and to exchange experiences with to mutual benefit.
The style of the pavilion is unique among the pavilions of Expo. It is of traditional Burmese architecture with decorations taking the form of elaborate floral wood carving and lacquered paintings with intricate line drawings.
Exhibits are arranged so that visitors have the feeling that they are actually visiting the country. They can enjoy Burma's treasures, and see the work of the country's finest weavers in silks and cotton, and intricate carvings in silver, ivory and wood.
Other features of the display include precious stones from Burmese mines, rubies, sapphires and jades; pearls from the country's coastal waters; teak from Burma's forests; agricultural produce.
Typical Burmese music and dancing contribute to the atmosphere of the pavilion, and at the restaurant, typical Burmese dishes are served.
1/9