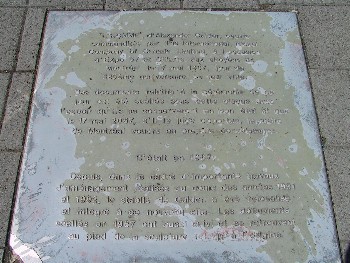 The Expo 67 Time Capsule
"L'HOMME", d' Alexander Calder, oeuvre commanditee par The International Nickel Company of Canada Limited a l'occasion d'Expo 67 et offerte aux citoyens de Montréal le 17 Mai 1967, jour du 325 eme anniversaire de leau ville.

Des documents relatifs à la cérémonie de le jour ont été scelles sous cette plaque avec l'espoir qu' ils se conserveront en bon état et que le 17 mai 2067, s' il le juge opportun, le maire de Montréal voudra en prendre connaissance.

C'était en 1967.
Depuis, dans cadre d'importants travaux d'aménagement réalisés au cours des années 1991 et 1992, le stabile de Calder a été relocalise et intégré à ce nouveau site. Les documents scellés en 1967 ont aussi suivi et se retrouvent au pied de la sculpture tel qu' l'origine.
------------------------
"MAN", by Alexander Calder, commissioned by the International Nickel Company of Canada Limited, on the occasion of Expo 67, and donated to the citizens of Montréal on the 17th of May, 1967, on the occasion of the 325th anniversary of the city's founding.
Documents relating to that day's ceremony have been sealed beneath this plaque, in the hopes of conserving them until the 17th of May, 2067, where, if appropriate, the mayor of Montréal will learn of their contents.
That was in 1967.
Since then, during important landscaping of the site in 1991 and 1992, Calder's Stabile was moved and integrated to this present site. The documents sealed in 1967 were moved along with it, and are found at the foot of the sculpture, as they were originally.
To view a larger size photo of the plaque, please click here.
Researched by Frank Blakeley with our thanks. French to English text translation provided by Jason Stockl with our sincere thanks.
Related links: Julie Bélanger's "Expo 67: 40 Years Later" + Jason Stockl's Expo Lounge.