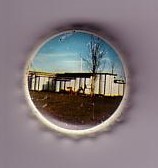 More than one hundred Québec industries are participating in the only industrial pavilion organized by a Canadian province.
The pavilion is in Cité du Harve, close to the main entrance of the exhibition -- Place d'Accueil -- and directly served by Trailer Train.
It is financed by the industries represented on a co-operative basis. It is under the auspices of the Québec Department of Industry and Commerce, and has a twofold purpose: to stimulate demand for Québec products and to encourage new industries to set up in Québec.
The St. Lawrence Industrial Valley is the theme of the pavilion, and the very latest techniques are used to illustrate and develop many aspects. The accent is on expansion and dynamic industrial activity, looking to the area's future in Man's new world.
One of the most exciting prospects favoring progress in Québec is the availability of immense fresh water resources, and an exciting feature will be daily colour television reports from Hydro Québec's huge Manicouagan power project.
These will be transmitted direct from construction sites by private circuit, and will be telecast live on a giant screen.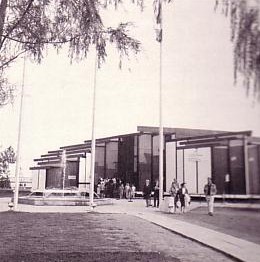 Insets from Bruno Paul Stenson, MA: Québec Industries bottle cap" -- The Dow beer bottle cap.
"Québec Industries" photo -- from "The Memorial Album," Toronto: Thomas Nelson & Sons, 1968.