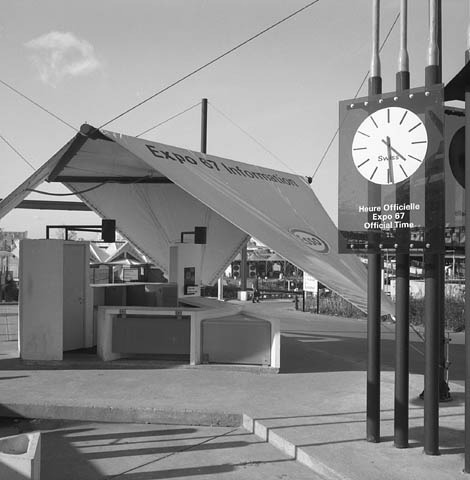 Photo credit: © National Archives of Canada
Expo 67 Official Time
The following information is culled directly from the "Expo 67 Montréal Canada" memorial book, published by Thomas Nelson & Sons, 1968.
The Watchmakers of Switzerland
Once upon a time the cuckoo clock symbolized Switzerland in the minds of the rest of the world, along with the Alps, yodeling and delicious cheese fondue. But no more.
A Swiss phenomenon of the space age, the atomic clock, renders obsolete the quaint hourly call of the cuckoo, not to mention most other clocks and watches. And befitting the space-age phenomenon that is Expo, this atomic clock keeps time for the entire fair.
On the 1,000-acre site, twelve handsome three-sided clock towers and 50 other clocks in pavilions and other buildings give the official Expo time, fed by electronic impulses distributed from the Time Centre in the Swiss Pavilion. The heart of the Time Centre is the Oscillatom, as the atomic clock is officially known.
This timekeeping device is activated by the vibrations of an atom of cesium, costs $20,000, and is accurate to the incredible degree of one-millionth of a second in 3,000 years. You have no excuse for being late for an appointment within Expo.
The Watchmakers of Switzerland, an industry group, are responsible for the entire Time Centre exhibit on the second floor of the Swiss Pavilion. One spokesman admitted that the Oscillatom has been developed for much more painstaking demands than Expo's timekeeping. Such clocks — there are four existing ones and ten more being built — are intended to play major roles in future research into jet travel and space, because of their ability to observe time data sent by satellites and to transmit high-precision signals for the world's observatories.
The Time Centre exhibit also displays a representative array of mechanical and electronic timepieces ranging from prize-winning watches to quartz clocks, deck watches to marine chronometers. A continuously-running colour film explains how the Swiss industry makes its fifty million watches a year.
However, to show that the development of the Oscillatom has not obliterated all beloved tradition, two of the official Expo clocks are not in the familiar contemporary design of black metal with white face. At La Ronde's Pioneerland-Fort Edmonton section, the official time is kept by charming grandfather clocks.