To celebrate Canada's Centennial Year, many staged events took place. Some of the key events were: Mountain climbing in the Yukon; across the country canoe race; the Confederation Train and the Confederation Caravan which travelled across Canada making stops at various communities; Shell Canada had a car rally that started in Vancouver and ended at the Autostade in Montreal (90 cars were involved and only 40 of them completed the rally. The winning automobile was the Lotus Cortina.); then there was the Canadian Centennial Copter Project which spanned from coast to coast for 100 days during the summer of 1967 (a postal cover indicates Stratford Ontario's first helicopter flight took place on July 6, 1967.) Hot air ballooning was also highlighted during 1967. As history illustrates, the idea actually helped to launch an air ballooning club out in Western Canada:
"A history of the Edmonton Balloon Club would not be complete without something on ballooning activities before the club was formed. Ballooning in Alberta really started in 1967, Canada's Centennial Year. As part of the centennial celebrations, a flight of several gas balloons was made from the city of Calgary. At the same time, a few enthusiasts in Calgary decided to form a club to promote the ballooning sport in Alberta: they called it the Alberta Free Balloonist Society." -- Charlie Littlewood, 1979, from an article called "
Edmonton Balloon Club History
."
Western Canada Balloon Post specimens, front and back covers dated July 19th, 1967, are featured (see items below.) They indicate that there was air ballooning activity in Yorkton, Saskatchewan. Apart from Yorkton participating in air balloon activity, the front cover suggests that other activity took place at Calgary, Alberta and Brandon, Manitoba, with proceeds from the events supporting the "Indian Friendship Centres."
Yet another idea emerged for an air balloon activity: Canada's first-ever air mail by air balloon was featured at Expo 67. This event took place on July 5, 1967. According to Richard Whitelaw (vendor for Academy Collectables of Oakville, Ontario), the air balloon floated over Expo 67 with mail piloted by W. Gruber and E. Maerkl. If you carefully examine the postage stamp, note how "Montreal" and "Sutton" are marked right over the stamp. This is the flight path that the air balloon took. The distance from Montreal to Sutton is 69.09 miles (about 1 hour and 28 minutes journey by car) making it an interesting flight for a hot air balloon to complete within a reasonable time-frame. And if you look closely once again, all specimens (except for the ones related to Western Canada) have some sort of air balloon design stamped on the envelope as it relates directly to Expo 67!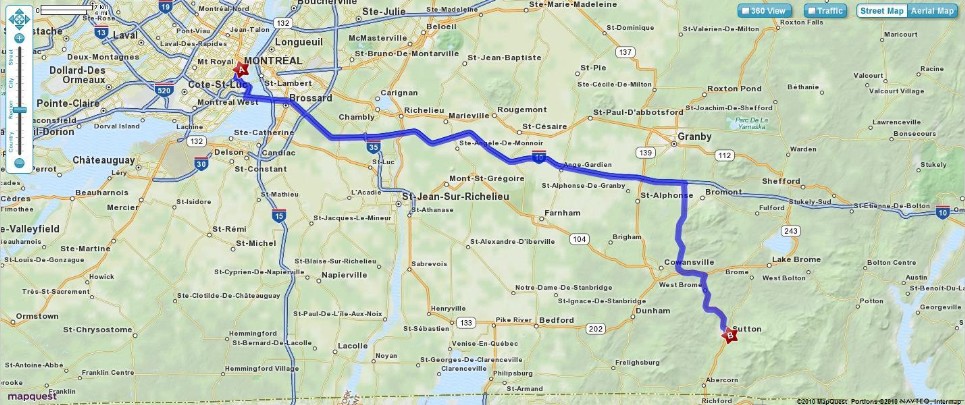 Doing a little further research for this project led to the discovery of the actual "Balloon Post" die slug used for the "
Montreal - Sutton
" event. The Library and Archives of Canada holds the information on the die slug and lists other slugs suggesting that similar "Balloon Posts" expeditions may have taken place:
Die slugs -

Balloon

flight

Montreal-Berthierville

(

bil.)
1967/07. File.
RG3-F-2.
Die slugs -
Balloon
flight
Montreal
-Trois Rivires
(bil.)
1967/06-1967/09. File.
RG3-F-2.
Die slugs -

Balloon

flight

Montreal-Sorel (

bil)
1967/06-1967/09. File.
RG3-F-2.
In order to verify the historical accuracy of Canada's first ever air balloon to carry mail, the Canadian Postal Museum in Ottawa was supplied with documentation found on this page and were queried about the possible launch locations of the hot air balloon. Was it at Expo 67? Was it at the Autostade? Was it at the top of Mount Royal? After 5 months of waiting with still a "NIL" response from the organization, suddenly on December 1, 2010, Yves Jasmin, Director of Information, Publicity and Public Relations for Expo 67 found the answer confirming that "Balloon Post" was indeed launched on Expo 67 property. Here is what Yves wrote in an e-mail correspondence (dated December 1, 2010) to this Expo 67 website proprietor: