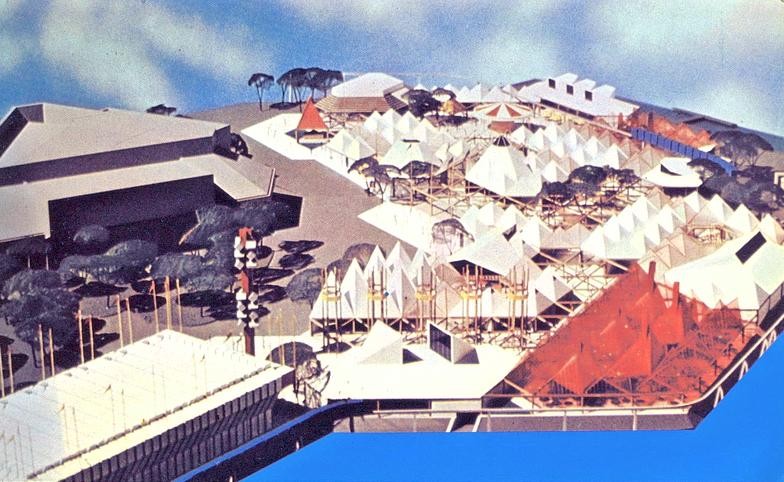 Photo credit: © The Benjamin News Company Ltd.
A model of the Carrefour International
Bonus photograph linked directly from the McGill University digital library database:
View of Carrefour International
Carrefour International is a quarter of bars, restaurants and small shops operated by many countries. It provides a fine opportunity to relax in original surroundings, to dine internationally served by staffs in international costumes, and to pick up the kind of souvenirs most visitors to the World of Expo will be looking for.

Carrefour means crossroads. Carrefour International is the place where the nations come together to offer visitors their attractive products, and to serve food and drink with a fine variety of style and flavor. National restaurants have an average capacity of 120 seats: there are also snack bars and food shops. Among the national restaurants are those of Switzerland, Czechoslovakia, Netherlands and Germany.

At the crossroads stands a magnificent antique merry-go-round, with elaborately decorated carved horses and chariots and a powerful organ that blares out carnival music. It's a genuine antique, unique of its kind, that was built in Belgium more than a century ago. While it is now driven by electric power, the old time flavor of steam operation is preserved by visual effects and steam's hissing sounds.

Entertainment at Le Carrefour International ranges from Hawaiian music in a theatre-restaurant to the cheerful music the British prefer in their favorite pubs -- in a pub representing the best of the British tradition.

There is a bank and a post office here for visitors.


1/4