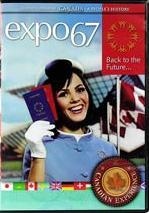 "Expo 67: Back to the Future" by the creators of "Canada - A People's History"
The bright shining sixties' version of the future came to Canada in 1967, the country's one-hundredth birthday--a time when everything seemed possible. The Canadian Experience explores the exhilarating experience of Expo 67, which had a lasting personal impact on a generation of Canadians, and launched Canada as an enthusiastic participant in the global village.
We meet Expo's Director of Publicity, Yves Jasmin, who tells the story of exploiting Cold War culture to win the all-important US market with ads like "Look what the Russians are building some 40 miles from the USA. As an American you should look into it." Thousands of people looked into Expo, and for some, it was a life-changing experience. A German tourist came to Expo and decided to emigrate to Canada. Well-known Canadian photographer Courtney Milne visited Expo and launched a career change.
Along with the full roster of sixties celebrities such as Jackie Kennedy, Ed Sullivan, and Princess Grace, 50 million visitors came to the magic world of Expo. The tickets were sold as passports, and those passports came to symbolize an opening to a larger world.
Behind it all, the beat of the sixties is the bass line to EXPO 67: Back to the Future. That beat, that summer, was full of confidence, energy and a belief in the possibility of a better world. Man didn't land on the moon until 1969, but one image dominated Expo: The picture of earth from space -- fragile and vulnerable...just another plant...the home of the global human family.
EXPO 67: Back to the future is a stirring reminder of an exciting and optimistic time. Some parties change people's lives, Expo 67 changed this country.