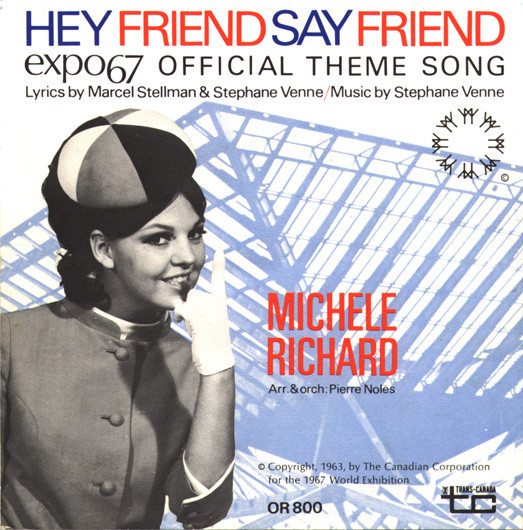 Click on the above image for the French cover sleeve
Richard, Michèle

Michèle Richard is a French-Canadian singer, born in Sherbrooke, Québec in 1946. Michèle's singing career began when she was 10 years old, after appearing on her father's local TV show.

The peak of her popularity was in the 1960's, where Michèle, in her late teens and early twenties, brought miniskirts and go go boots to french Canada. Michèle's success lay in her ability to deliver the mod sound of the swinging sixties to her teen Québecois audience. Her hits included French covers of such artists as the Beatles, Sonny and Cher and the Supremes, to name a few. These songs were pure 60's pop, dealing with boyfriends, break-ups, and having fun. She could be seen every week performing these hits on the teen variety show, "Jeunesse d'aujourd'hui" (inspired by the "American Bandstand" concept).

In 1966, Michèle was asked to record the official Expo 67 theme song and in 1967, she won the coveted award of Miss Radio and Television at the Gala des Artistes. The 45 record included the original french version "Un jour un jour" on side A as well as it's English counterpart, "Hey Friend Say Friend" on the B side.

- Write-up and audio files supplied by Jason Stockl, Montréal, Québec, with our sincere thanks!
Carleton University's "National Capital Freenet" is a non-commercial ISP located in Ottawa, Canada. The information contained on this page are for educational and historical purposes only.