What! Take a bag of ham sandwiches and a thermos of coffee to EXPO - where there are 146 restaurants and snack bars, 46 food shops and 500 automatic vending machines to serve you? And 21,500 seats? (Enough that, at noontime on an average week day, one in every five visitors at the fair could be sitting down eating at the same time.) Relax; you're not likely to starve at Expo - or settle for inferior food - or go broke - no matter how drastically a thin bankroll narrows your choice in the greatest array of epicurean delights Canada has ever seen.

You might, understandably, balk at the tab for a dinner at Czechoslovakia's ultra-elegant Chateau restaurant, which lists filet of veal baked with anchovies and gin in the $7.50 range; or debate such delicacies as broiled quail (three on a skewer, served separately) about $3, in the Ontario pavilion dining-room. But who could forego a gastronomical bargain like that offered by Gaston Wacher of Basle, Switzerland, in his self-service restaurant an individual cheese, Quiche Lorraine or onion pie about four inches in diameter, the pastry flaky with three kinds of cheese, yours to savor for 30 to 50 cents; the glass of wine to sip with it, 40 cents.

Each person visiting the fair will, Expo officials estimate, average two food or beverage purchases per visit, paying out $2.37 at restaurants and snack bars and 30 cents at vending machines and food shops. In spending this money, he'll have a choice of five categories of restaurant, ranging from inexpensive ($1.75) to deluxe ($5.75 and up), the types of food served appealing equally to those who want to experiment with foreign dishes (the fare of over 30 nations will be represented) and those who don't go for fancy, unfamiliar food at any price.

Making sure that visitors get a fair shake for their food dollar is a policy so zealously pursued by the corporation's food officials that concessionaires and foreign government commissioners are co-operating to an unprecedented extent in providing advance information on menus and prices, and in meeting specifications for food standards and services. You won't, for example, have to shop around for the best buy in hot dogs (they're a standard 30 cents). Nor wonder what to do about taking children into restaurants (most have special dishes and prices, about one-third off). And once the prices are officially agreed upon next month and pegged (as yet they're preliminary; final prices will correspond with the going rate in Montreal in March), they'll stay there, with Inspection teams checking on them regularly.

World fairs have not been noted for their high food standards or low prices. Expo promises to be different. "Never before has the public been assured of such consistently good food," according to Dalton Waller, one of the caterers having to meet Expo's strict food requirements and anticipating that they'll be administered as well as they've been set up. "And unlike the Brusseis fair - I was there and at Seattle and New York, too - there'll be plenty of small restaurants and snack bars to give the kind of quick service and familiar foods that North Americans like."

He's right. Eating at Expo will not be all caviar and couscous and candy floss. In addition to the exotic menus of the national pavilions, and the staples of the vending machines, you'll find dozens of medium-priced restaurants and snack bars operated by concessionaires, many of them specialists from foreign countries, most of them experienced caterers from Canada.

Above all, eating at the fair promises to be an introduction to the spectacle, the glamour, the fun, the spirit of Expo. That's because the restaurants are planned to be an integral part of the enjoyment of being there. At the Place des Nations on Cap Ste. Helene, the two restaurants are literally built into the handsome amphitheatre that is the centre of each country's festivities for its national day. And they're glass-walled on three sides so that you can enjoy the day's special events while dining, say at El Gaucho, on a rare combination of chicken, duck, rabbit and pigeon served on steamed rice, and sipping Argentine wine.

Across the square, at the Pepsi restaurant, you'll discover the new look in hamburger stands. Seated at a futuristic, metal-domed table, you can munch your 40-cent, two-and-half-ounce hamburger and sip your 15-cent soft drink; or you can go into the dining-room (like El Gaucho's, it juts into the amphitheatre and is glass-walled on three sides) and order Eggs Benedict with Hollandaise sauce, back bacon and muffin $1.95) and a carafon of wine - or even the table d'hote steak dinner and a bottle of champagne. Almost all the restaurants on the grounds are offering liquor, beer and wine but there's no restriction on taking children into these areas, provided they are accompanied by an adult.

To find out whether a restaurant is licensed, where it is located, the type of food served and the price range, check the "where to eat" chapter in the official Expo guide book, on sale this month, $1 at newsstands. You'll discover that the restaurants and washrooms are grouped into service areas, A to F, each carefully planned to give choice of foods. The biggest surprise may come when you see how attractive a "snack bar" is: The Expo terminology doesn't do justice to these self-service sidewalk cafes which could prove just as much a way of life in Montreal next summer as those of the Champs Elysees or St. Germain are in Paris. Near the lle Notre Dame Expo Express station, four snack bars have been erected along one side of a bridge that crosses a landscaped lagoon. You can sit there and enjoy your crepes or pizzas or ice cream if you can leave your camera alone long enough. Below you pass the gondolas. junks, dhows and other craft that take visitors on rides along the system of canals and lakes; on one side you overlook the terrace of the Yugoslav pavilion; ahead lies the pavilion of Great Britain.

Admittedly, not all the snack bars are so attractively situated, but dining-with-a-view is not difficult to come by. Beside the same bridge is The Barn, a cafeteria-style restaurant jutting out over the lagoon and featuring steak, chicken and fish dinners. A short walk beyond the bridge and the French Pavilion will take you to a terrace overlooking the Lac des Voyageurs where you can lunch at a Dutch buffet for $1.95. After you've done the German and Australian pavilions, you may be ready for the next service area and a delightful view of the St Lawrence seaway. It can be had at a self-serve restaurant while enjoying a salad plate at $1.25. Wander farther along and you'll come to a second bridge of cafes and boutiques where you can sit down and have a dish of ice cream.

If what you want is a Chinese meal, continue over the bridge to Vincent Eng's oriental restaurant where he'll tempt you with egg rolls (25 cents), golden-fried, crisp won ton with stuffing of shrimp, pork and ham served with sweet and sour sauce ($1), and a diced-chicken dish sautéed with water chestnuts, vegetables and roasted nuts ($2.10). In addition to the a la carte menu, he's having a modestly priced visitor's plate and a menu for children. His special concoction from the bar: a Charlie Chan.

Feel overwhelmed by the spectacle, the excitement, the activity, the scope of it all? Then you're ready for Pierre, at Pierre Interlude. A real change of pace, this cosy restaurant is operated by Lucky Pierre Parker, a French-born and Swiss-trained restaurateur, who has chosen to shut out the sight and sound of the fair by drawing the drapes across the windows of the three small rooms and suggesting a gaslight European atmosphere. Pierre name drops celebrities like Louella Parsons and Vincent Lopez and is exhibiting for the first time in Canada the paintings of Parisian artist Guy Colomer (and he name-drops Elizabeth Taylor and Sir Laurence Olivier as being among Colomer collectors).

To enrich his restaurant further, Pierre has imported handsome tapestries, antique clocks and a Spanish roll organ. Stop in here for Pierre's specialty: onion soup cooked with chicken, sausages, wine and cognac, and served with three cheeses and his special garlic bread. All the soup you can sup, $2. If you're always fascinated by flambé desserts, order his marinated peaches and black cherries in cognac-cassis sauce, served flaming right at your table, $1.50. And if the antiques or paintings really grab you - they're for sale. Count on host Pierre to visit your table, personally.

Relaxation has very obviously been planned into the Expo scene Before or after you go to the mammoth USSR pavilion you may want to rest at the German Beer garden bordering on the lagoon. "Rollicking" would be a more apt description of this oasis - there's a floating band shell on the lagoon and a background of 'oompa music'. As well as beer, the garden serves soft drinks, coffee and milk and features children's portions of wurst. To keep up your strength and your enthusiasm, there's always another excellent steak house around the corner. When you cross the bridge connecting the USSR to the U.S. pavilion, one of the first you'll see is Le Rendezvous, beside the bandstand. Here Hans Gadner of the Laurentians and Maurillio Bulloni of Switzerland are featuring "Entrecote Cafe de Paris", a red brand sirloin steak trimmed of all fat and nerve and served with a very old and famous Swiss sauce, the ingredients of which are sweet butter, herbs, anchovy paste, cognac and spices. So famous is the sauce that in Europe, whenever it's served, a royalty must be paid to the originators in Geneva.

Delightful as these Expo-concession restaurants may prove, the big attraction for foreign food specialties will doubtless be the national pavilions. Prestige rather than profit is considered to be their motivation. If some of the dining-room prices seem to belie this, it should be conceded that what they are offering is all the delights of dining abroad in a first-class restaurant, without the air fare. Honors for being biggest go to the USSR with 900 seats in its various dining-rooms, followed by Canada with 650, then Ontario, Czechoslovakia, Scandinavia and France. The rest of the thirty-two pavilions featuring national foods or beverages range in size from 400 to 50 seats. And authentically "foreign" the fare will be: Cuba is even importing its ice cream; smorgasbord items from the five countries represented by the Scandinavian pavilion will be flown in regularly; the USSR's mammoth shipping order lists such quantities as twenty tons of sturgeon and seven tons of caviar.

With thirty-two pavilions to choose from (and some, such as Ontario's, offer as many as six eating places, ranging from snack bars to cafeterias to fine dining-rooms) - plus eight international restaurants in the carrefours shopping complex at the La Ronde amusement area - you'll need to be a most discriminating diner (or a committed gourmand) to sample adequately the world's food specialties as offered at Expo. To be completely chauvinistic, consider first the Canadian pavilion. If you don't visit its Tundra restaurant, where guest sit on seal-hide upholstery in a room decorated with Eskimo tapestries and carvings, you may never again have the opportunity to taste such well-known Canadian dishes as clay-baked Prairie Grouse. If you're curious about Ontario's delicacies, there'll be broiled quail on rice. And if you're curious about Quebec's, so is everyone else: The wraps aren't off yet, but indications are that the habitant bit is old fiat and fare more typical of the new Quebec will be revealed. Perhaps the most impressive of the Canadian menus being presented is that of the Atlantic provinces: It includes lobster, oysters, clams, shrimp, scallops, haddock, sole, salmon, crab and frogs' legs served in almost countless delectable ways. Predicted as a sure success is their nearby chowder bar seating sixty and serving inexpensive treats from Canada's east coast.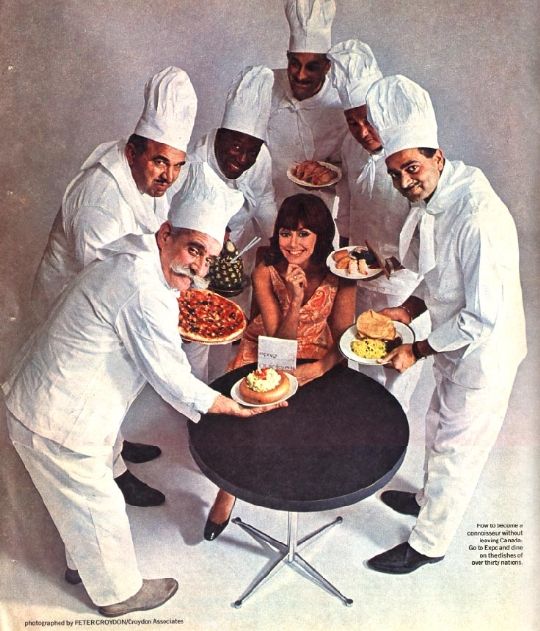 Among the most prestigious dining-rooms at the fair are likely to be those of the Communist countries. Ironically, Czechoslovakia describes its Castle (Chateau) restaurant as offering "top-notch meals such as were served in the residences of kings, princes and counts in Bohemia, Moravia and Slovakia". The meals will be prepared at table side and the suggested tab for lunch or dinner is $10. The menus sound suitably appetizing - almost unbearably so: a salad of trout and prawns to start, then a choice of soups as varied and exotic as cream soup with peas and gin, and apricot soup; for the maître d's specialty en papillotte, there's a veal steak with goose liver and brandy (or how about brain with artichokes in wine?). If you prefer a chafing dish, try tournedos with goose liver in wine. And, as a digestive, a glass of slivovitz. There are three more Czechoslovakian dining-rooms, but the bill for a full meal in any is likely to be $5.

Cost of dining in the USSR pavilion is not yet known. While its 300-seat cafeteria will probably be more modest, the Moscow restaurant is expected to be in the deluxe $5-and-up class. It will feature the dishes of the republics, served by waiters in national costume. If you fancy Ukrainian cookery, that menu offers as an hors d'oeuvre tomatoes stuffed with eggs, then a choice of cold or hot soups like Borsch Ukrainsky; for the fish course, a vol-au-vent with sour cream sauce; followed by roast meat Kiev style, Vareniki berry dumplings and tea with honey.

Among the pavilions catering to family groups and well-heeled gourmets too, is the Scandinavian one. The specialties of the five countries will be served in the Midnight Sun room at a fabulous smorgasbord offering "all you can eat, for $6" (like, a choice of fifty-seven delicacies including Danish duckling, snow grouse, roast loin of reindeer) and including dessert and coffee; in the 170-seat cafeteria there will be a menu that offers a substantial meal for $1.50 and a special one for children.

You won't run out of places to dine. Israel, Japan, Mexico, Tunisia, Austria, Cuba, Switzerland, Germany, Italy, China (Taiwan), France, Ceylon, Burma and Belgium - all have restaurants in their national pavilions.

And where are the kids while this epicurean binge is going on? Probably down at La Ronde, Expo's entertainment area and the last stop on the Expo Express. And you can bank on a stack of 'burgers, THEY won't starve. Making sure they don't are the snack, milkshake and waffle bars strategically located in the arrival and ride areas. In addition, there's a children's restaurant in the Children's World, offering smaller portions of such small-fry favorites as spaghetti and fried chicken.

Hold on a minute -- you'll be making a mistake if you write off La Ronde as ferris wheels and candy apples and popcorn. It isn't. Planned as a permanent entertainment area fort Montreal, La Ronde also offers sophisticated adults more kinds of "atmosphere" dining and nightclubbing than most big cities. In the Fort Edmonton area, which looks for all the TV world like a set for a high budget western, you can step right into the Wake Up Jake Saloon and order up a mess of flapjacks and sausage (75 cents) no matter what time your day I begins. Should you arrive at noontime, you'll discover that the picturesque saloon at the corner is the very real and very plush Klondike Steak House, exuding the glamour of the gaslight era and offering a choice of, ten cuts of steak and beef, ranging from $2.95 to $6.50. Should you feel like a night on the town, saunter across to the Golden Garter Saloon This is essentially a house of entertainment (it's continuous after six! p.m.) with Floradora girls and singing waiters; but you won't go hungry here either - there's hearty chuck wagon ! stew ($1.50) and Stampede Sandwiches to keep you going.

When you've had your fill of this Disneyland of hospitality, early Canadian west style, continue along the'- lake to the international carrefours area and you'll discover a charming complex of white plastered buildings with dark wood trim, housing brightly painted boutiques - and eight more international dining spots. If you've become a little jaded, highly selective and insistent on something different, you'll find it here. At the Bulldog pub, for example, where three husband-and-wife teams will dispense the much publicized cheeriness and joviality of merrie England and serve along with the ale a meal of cold cuts and potato salad or meat pie with salad ($2.25). Should you want to be entertained, there's a Hawaiian theatre restaurant (and a charge for the show: adults, $2; children $1). In the carrefours, there are also foods and drinks typical of the Netherlands, Switzerland, Martinique and Guadeloupe, Czechoslovakia, Cuba and Yugoslavia, the latter's menu being limited to three kinds of meat done in modified versions of the heavily spiced ones of that country.

Still game? Then on to "Le Village", a cluster of fieldstone buildings recreating in romanticized form an early French Canadian village. This is the night life area of La Ronde and it's featuring traditional French Canadian food. The Refectoire de l'Abbaye will have a haute cuisine room for fine dining, as well as a habitant one, and the Boites a Chansons, a showplace for chansonniers, will serve tourtiere, steak, coq au vin and lobster.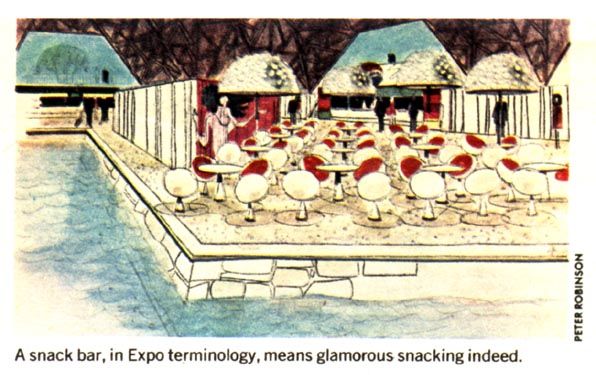 And all this wining and dining without resorting to one of the 500 vending machines, or buying a box lunch or a cone of fish and chips!

Of course, if Expo is the big success it promises to be . . . and the weather is delightful . . . and you're there on a peak attendance weekend in July or August . . . you might find it more expedient to settle for a hamburger and a cup of coffee. But no matter where you munch that burger, it promises to be a tasty one. And if you're one of the 21,500 visitors sitting down at that precise moment - you'll have to admit that, in terms of feet, eating at Expo's the greatest!