| | | |
| --- | --- | --- |
| English version | | French version |
Suggested playback media:

The following report is culled from the Canadian Encyclopedia web site...
Donald Lautrec
Lautrec (b Bourgeois), Donald. Singer, actor, songwriter, TV host, producer, b Jonquière, Que, 13 Jul 1940. He began his career in 1957 as an acrobat, and his singing debut took place in 1963. He made two LPs for Apex, the first - Personne au monde included songs by Cécile Coulombe and Marc Gélinas. Among his early hits were 'Lobby-Ho,' 'Tu dis des bêtises,' 'Le Ska' (in collaboration with Pierre Nolès), and 'Loin dans ma campagne'.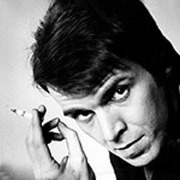 Composer Stéphane Venne
In 1965 he was named male singing discovery of the year at the Gala des artistes in Montreal. The following year he went to France and sang for the ORTF on several variety programs. He finished his second tour in Quebec with a recital at the PDA. He premiered the Expo 67 theme song 'Un jour, un jour' ('Hey friend, say friend') by Stéphane Venne and gave a recital at the Expo Theatre.
In 1968 he toured the French provinces with several artists, including Nana Mouskouri, and gave a recital on Warsaw TV. He went to Spain to make the film Le Diable aime les bijoux (1969) and sang one of the songs (recorded on Jupiter JPLS 11020).
In Canada that summer Lautrec was the host for 'Coup de soleil,' a program which became 'Donald Lautrec chaud' on CBC TV (1969-71). In 1972 he appeared at the PDA in the MSO summer concerts. René Homier-Roy described his performance in La Presse (12 Jul 1972): 'Self-assured but not aggressive, cool, calm, and somewhat amused, he sang some old songs and almost all [the songs] from his new LP in an amazingly sure voice... He is, in a word, good, and he finally inspired the orchestra. '
For CBC TV he appeared in 1973 in the series 'The Entertainers', was singer and host 1974-6 for 'Tempo'. He then hosted the variety series 'Lautrec 81' (followed by 'Lautrec 82,' '83' and '85') outstanding for its concise editing and timely innovative style. In the middle of the 1980s he became president of Productions Riviera and producer of numerous TV games and other programs as well as commercials. He participated in several musical revues (Zéro de conduite, On perd le nord and Broadway Melodies) and acted in such films Deux femmes en or, Les Chats bottés, Gina, and Maria Chapdelaine.
Lautrec's LPs (some 15 by 1979) include one of a recital he gave at the Comédie-Canadienne in 1970 (Jupiter YDS 8030) and Fluffy, including several of his compositions (1972, Trans-World TWK-6501). The reissues Donald Lautrec, ses succès 'chauds' (Jupiter JPL 11019) and Donald Lautrec 1960-1970 (Neptune NEPS 6007) were released in 1969 and 1971 respectively.
Among Lautrec's main hits were the songs 'Candy,' 'Heloise,' 'Hosannah,' 'Le Mur derrière la grange,' 'Kyrie eleison,' 'Toujours le même,' and 'Le Jour du dernier jour' (a French-language version of 'A Whiter Shade of Pale' by Procul Harum). In addition to his own material he has performed songs by Michel Conte, Jean Fortier, Claude Gauthier, and Stéphane Venne.
Author: Suzanne Thomas
Carleton University's "National Capital Freenet" is a non-commercial ISP located in Ottawa, Canada. The information contained on this page are for educational and historical purposes only.